Duurzaamheid
Mardi Gras rounds off marvellous year for LNG in the port of Rotterdam
21 December 2020
On Tuesday 22 December, the brand new Mardi Gras will sail into Cruise Port Rotterdam. It is Carnival Cruise Line's largest cruise ship and the first to be powered by LNG (liquefied natural gas). Having set out from Meyer Turku, Finland - the shipyard where it was built - the vessel, which isn't carrying any passengers, is calling at Rotterdam on its way to Port Canaveral, Florida. Next year, it will set off on cruises from there.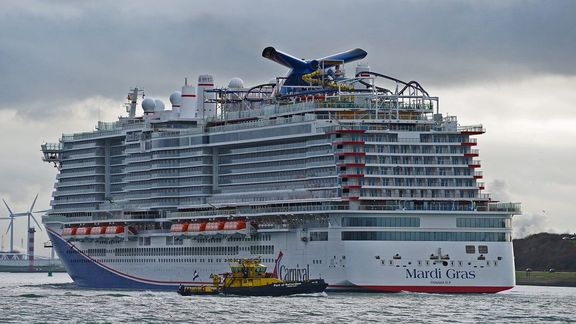 The Mardi Gras is coming to Rotterdam to bunker. The arrival of the ship means the perfect ending of 2020 as the year of LNG at the port of Rotterdam. Other highlights include the arrivals of the Sleipnir, the world's largest semi-submersible LNG-powered crane vessel; the Iona, the first LNG-powered cruise ship to arrive in Rotterdam; and the CMA CGM Jacques Saade, the first 23,000 TEU container ship to be powered by LNG.
The opening of the Gate terminal ten years ago saw the Port of Rotterdam Authority begin to promote the use of LNG in Rotterdam. There were two aims behind this: firstly it wants to encourage the shipping industry to switch from using fuel oil to the cleaner LNG; secondly, the Port Authority is committed to making Rotterdam the LNG hub of North-West Europe. LNG bunkering now takes place weekly at various locations in the port, and the port has almost ten LNG bunker ships at its disposal. The Mardi Gras will be fuelled with LNG from Shell by the LNG London bunker vessel, which is operated by Victrol.
After AIDA Nov, Costa Smeralda and Iona of Cunard, Mardi Gras is Carnival Corporation's fourth LNG-powered cruise ship. Carnival Corporation is the world's largest leisure travel company, whose portfolio of brands includes Holland America Line and Carnival Cruise Line. Between 2020 and 2025, another 22 LNG-powered cruise ships will be commissioned worldwide.
The Mardi Gras is currently expected to depart on at 5:00 PM on Wednesday 23 December.