Bereikbaarheid
Prinses Amaliaviaduct: improving access to Maasvlakte 2
19 November 2018
Friday, 16 November 2018 saw the official opening of Prinses Amaliaviaduct, a new overpass at Maasvlakte 2. In the years ahead, this grade-separated interchange will ensure that the new container terminals remain accessible. Boskalis Netherlands started constructing this viaduct, involving a total investment of EUR 38 million, in 2017.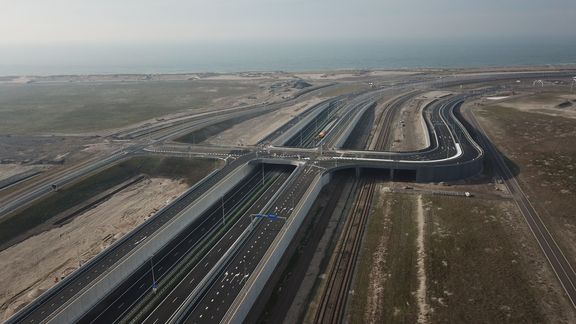 "In the port, we build new connections to stay ahead of congestion. The Prinses Amaliaviaduct will provide what is also referred to as guaranteed accessibility for the container terminals in Amaliahaven and the southern section of Maasvlakte 2," says Port Authority COO Ronald Paul, who opened the overpass together with Johan van der Hoek, Director of Boskalis Netherlands.
The Prinses Amaliaviaduct will substantially improve circulation along Maasvlakteweg. The carriageway was recently widened from two lanes to four lanes with an emergency lane on both sides. Several local roads converge at the Prinses Amaliaviaduct: Maasvlakteweg, Prinses Máximaweg, Maasvlakteboulevard and Amoerweg. In addition, the railway, the pipeline corridor and – in the near future – the Container Exchange Route (CER) also intersect here at grade level.
Innovative construction materials
The Prinses Amaliaviaduct is the first large-scale project to make use of Beaumix. Produced at the waste incinerator plant, this new construction material is used to replace sand. A total of 230,000 tonnes of former waste was re-used in the building of the new overpass.
New directions
The Prinses Amaliaviaduct will be replacing the former at-grade intersection on Maasvlakteweg. It also appears slightly earlier along the route than its predecessor (see illustration). In other words, local traffic for container ports 8800-9000 and beach-goers should take care to turn off at this intersection rather than continue on Maasvlakteweg.