Bereikbaarheid
Real-time digital overview accelerates handling of delayed Suez vessels in port of Rotterdam
09 April 2021
Many sea-going vessels have been delayed as a consequence of the Suez Canal obstruction. As delayed vessels are arriving in quick succession in Rotterdam, there are many scheduling changes. This has created a lot of confusion for market parties regarding their vessel's estimated time of arrival.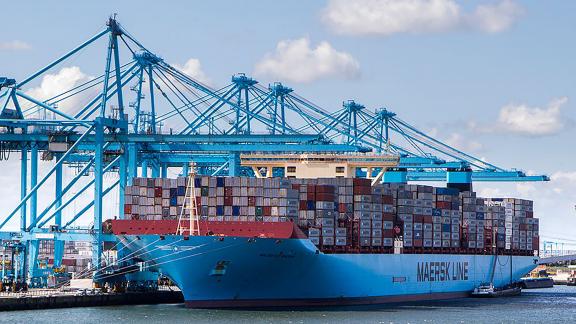 The Port of Rotterdam Authority, subsidiary PortBase, and five deep sea terminals* have developed a real-time digital overview of arrival times on www.portbase.com/suez to provide transporters, shippers and other market parties with real-time information.
Only website based on terminal schedules
From today, transporters, shippers and end recipients of freight can see well in advance when and which vessels are scheduled to be processed in Rotterdam. The overview on the PortBase website is unique as it provides market parties with insight into the terminal schedules at all Port of Rotterdam deep sea terminals in one central overview, making this website the most reliable source information on vessel arrival times in the Port of Rotterdam.
Allard Castelein, Port of Rotterdam Authority CEO: 'We are delighted to be able to offer our clients digital solutions. Forwarders that need to collect containers from the Port of Rotterdam can use this real-time digital overview to take the necessary preparations well in advance of the vessel's arrival in the Port of Rotterdam. This can accelerate the smooth handling of containers and certainly of cargo that is now arriving later in Rotterdam as a consequence of the Suez Canal obstruction. This service demonstrates the added value of sharing data to the entire logistics chain.'
Accurate, reliable and freely accessible
Transporters, shippers and end recipients of containers prefer to use a terminal schedule, as this offers the most reliable and up-to-date information. The website is freely accessible for everyone, requires no login and looks further ahead than other tracking websites. These generally offer up to 48 hours advance insight and are less reliable as they do not have access to the terminal schedules. Website visitors can also find useful information on the available tracking options after the cargo has been unloaded in the Port of Rotterdam.
For the time being, the real-time online service will be offered until 9 May.
*All deep sea terminals in the Port of Rotterdam are taking part in this partnership: APMT (terminals 1 and 2), ECT (Delta and Euromax terminals) and RWG.