Sustainability
'The goal is completely fossil-free terminals'
27 September 2023
Reading time: 5 minutes
Broekman Logistics is working hard to fulfil its ambitious sustainability goals. In doing so, the service provider deliberately engages in dialogue and collaboration with clients, suppliers and its own employees.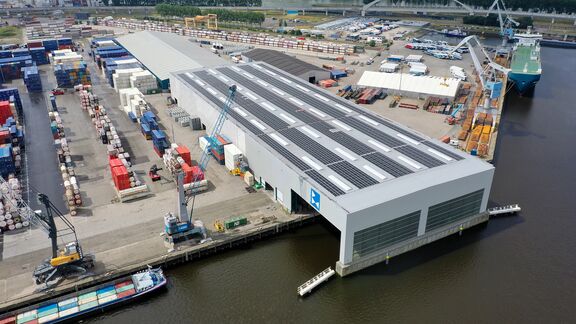 As a global provider of integrated supply chain solutions, Broekman Logistics sees it as its mission to add sustainable value for its clients in all divisions of the company: Forwarding & Shipping, Warehousing & Distribution, and Breakbulk Terminals. The organisation has set specific targets here for the next three years, focusing on its own processes. And especially on energy consumption and energy supply. "Energy is the essential backbone of our operational activities. It should be used as efficiently as possible," explains sustainability manager Johan de Jong. Therefore, the steps being taken are not limited to 'basic steps', such as replacing old lighting with LED lighting. We are certainly looking further than this.
Energy consumption and energy supply
"By 2025, we want all sites to be equipped with LED lights. This should result in a ten per cent saving in energy consumption," De Jong continued. "However, we see that in some locations, where LED lighting has already been installed, the lights can sometimes be on continuously. By using sensors, we can further reduce energy consumption there."
In addition to energy consumption, energy supply is being studied. That must be 100 per cent sustainable within two years. In spring 2023, one of the service provider's Rotterdam breakbulk terminals was fitted with no less than 2,700 solar panels for this purpose. "The energy we generate with this is equivalent to the energy consumption of 560 households and accounts for a third of the energy consumed at this site," says Rob van Dijk, director of terminal operations at Broekman Logistics.
However, solar panels are not always the most obvious option, De Jong points out. "Technically, it is feasible to install panels on our hazardous goods warehouses as well. However, from a safety perspective, we prefer to look into buying truly green energy for those locations," explains the sustainability manager.
Broekman Logistics is also investigating options to further reduce diesel consumption, for example by switching to electric mobile cranes and reach stackers.
The organisation has already taken steps by switching to electric and LPG forklifts, as well as eco reach stackers that consume less fuel. Diesel consumption must be reduced by ten per cent by 2025. "That sounds easier than it is in practice, because you depend on other parties for that electrification," notes Van Dijk. "After all, charging facilities must be created at the terminal."
'Looking beyond the tip of the iceberg'
De Jong calls the sustainability efforts at own sites and for own processes the visible part of the iceberg. "Most of the emissions are elsewhere in the chain," he argues. "We therefore also enter into dialogues with clients, suppliers and other stakeholders to see how we can make that chain more sustainable together."
Among other things, Broekman Logistics participates in the Joint Corridors Off-Road programme, which encourages shippers and carriers to make more use of inland shipping, rail and short sea. The programme has now saved 1.5 million truck trips; amounting to a reduction in CO2 emissions in the chain of almost 900,000 tonnes.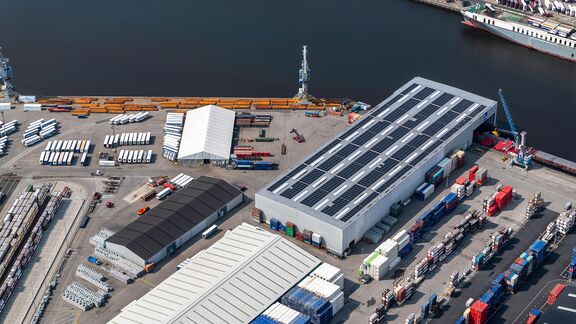 De Jong notices that a growing number of clients recognise the importance of sustainability. Broekman Logistics clients are increasingly asking for zero-emission or CO2-compensated transport. A good development, according to the manager. "Because sustainability is not only a matter for ourselves, but also for our clients, suppliers and other stakeholders. Some clients even make concrete demands, expect us to facilitate a sustainable process and want to develop initiatives together with us, such as electrifying internal transport, or developing new packaging solutions in our warehouse processes."
Communication is crucial
Awareness is also growing among our own employees. Broekman Logistics tries to involve its employees as much as possible in achieving its sustainability goals. Annually, the service provider prepares a sustainability report, evaluating business activities according to the internationally recognised GRI Sustainability Reporting Standards. But De Jong realises that employees are unlikely to read the report from cover to cover. "We inform and motivate our people among other things with short vlogs and blogs on our intranet," he says.
"It is an interaction, whereby we also encourage our employees to think with us. In one of our warehouses, this has resulted in the reuse of filling materials, at the initiative of our own people." According to Van Dijk, communication is also a good way to raise awareness and support. "Sustainability is not always an immediate priority in operations at terminals and warehouses. Moreover, you don't realise it overnight. A clear vision is needed. Good communication and transparency are crucial here."
Sustainability tips
As to whether they have any tips for other companies in the breakbulk sector, De Jong and Van Dijk do not need to ponder for long. "Be sure to delve into subsidy opportunities, there are plenty of them. The argument that a business case cannot be made to work, or that sustainability is too costly, often does not hold water," De Jong said. "In addition, it is important to make one person or preferably one team truly responsible for sustainability. If you don't, you risk sustainability fading into the background and you will soon be too late," Van Dijk adds.
"You also don't have to invent the wheel yourself. There are now plenty of real-life examples. Therefore, look beyond the walls of your own company and learn from the successes and mishaps of others. Many companies and organisations are working on sustainability and are willing to cooperate. For example, we are currently looking together with the Port of Rotterdam Authority at the possibility of equipping one of our Rotterdam terminals with shore-based power, allowing ships to plug in during their visit instead of using their diesel generator."
According to De Jong, it is only a matter of time before this sustainability goal is also achieved. "In time, our terminals will be completely fossil-free," he concludes. "That will be quite a challenge – especially technically – and there are certainly steps to be taken, but I am confident it is within reach."