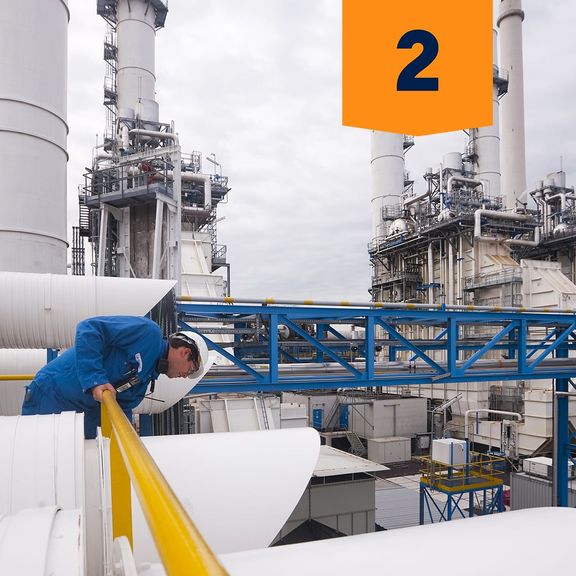 Energietransitie
A new energy system
Industry is switching to sustainable electricity and (green) hydrogen. This requires substantial supplies of affordable energy from sources such as wind and the sun.
PILLAR 2
Towards a CO2 neutral port with a new energy system.
Hydrogen
The Port of Rotterdam Authority and its partners are working on a hydrogen system. The use of blue and particularly green hydrogen in industry and transport contributes to the goal of a CO2 neutral port because green hydrogen does not release any emissions. Blue hydrogen emissions will be stored in depleted gas fields under the North Sea via an underground pipeline. Currently, half of all hydrogen projects in the Netherlands are taking place in Rotterdam.
Rotterdam hydrogen system
The Rotterdam hydrogen system consists of several components:
1. Hydrogen infrastructure
Hynetwork Services in collaboration with the Port of Rotterdam Authority is developing a new hydrogen pipeline (formerly HyTransPort). This hydrogen pipeline will soon form the backbone of Rotterdam's hydrogen infrastructure. In the future, the pipeline will be connected to the national and international hydrogen network. This will provide a connection to Chemelot in Limburg, North Rhine-Westphalia in Germany and other European regions.
2. Conversion park
On the Maasvlakte, 24 hectares have been earmarked for the conversion park that will convert green electricity from offshore wind farms into green hydrogen using electrolysis. Several plots in the park have already been reserved, including by Shell. Nobian, BP and the Port of Rotterdam Authority are working together on the H2-Fifty project to develop a 250 MW electrolyser by 2025. The aim is to eventually supply around 100 to 180 thousand tonnes of green hydrogen a year to industry and/or the transport sector. Wind provides green energy and is important for the production of green hydrogen.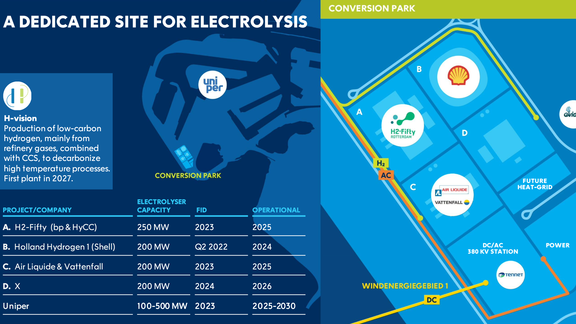 Green hydrogen imports
The port of Rotterdam plays a key role in the European energy system. Three times as much energy, mainly in the form of oil, is now transported via Rotterdam than is consumed in the whole of the Netherlands. We assume that in 2050, we will have to import eighteen million tonnes of hydrogen via Rotterdam. Meanwhile, the Port Authority is currently involved in dozens of projects with the aim of setting up imports via Rotterdam.
More information? Contact: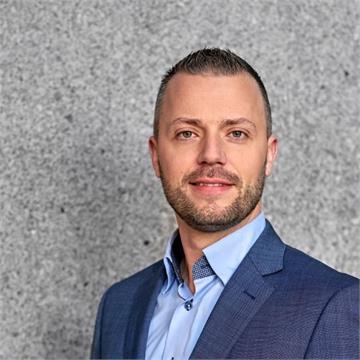 Randolf Weterings
New Business Development Business Manager