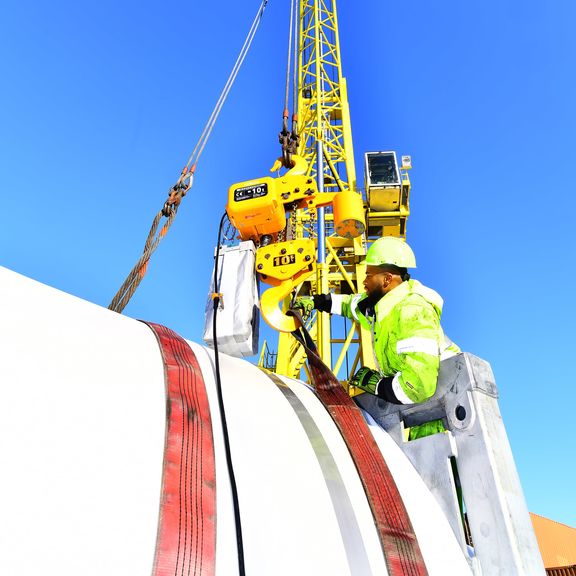 Ongoing projects
De industrie gaat stap voor stap naar CO₂-neutraal
11 May 2021
For years, port businesses have been preparing and successfully investing in a future-proof, clean port. And it's paying off.
Innovations are being tested in practice, new technologies are being implemented, and existing companies are starting to collaborate with new ones. We too are already taking measures to minimise emissions in the short term. The following ongoing projects show that the Port of Rotterdam is working full steam ahead towards the energy transition.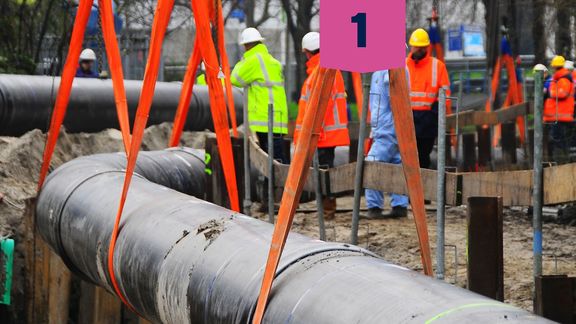 PILLAR 1: EFFICIENCY & INFRASTRUCTURE
Industry can evolve into a carbon neutral economy step-by-step. Pillar 1 is for existing industry to take all kinds of efficiency measures, residual heat will be used to heat homes, company buildings and greenhouses, and CO2 will be captured and stored beneath the North Sea. These developments will require a lot of additional infrastructure in the coming years including pipelines and cables.
16,000 households receive heat from Pernis
16,000 Rotterdam households are being heated using residual heat from a refinery in Pernis. This is a Shell, Port of Rotterdam Authority and Warmtebedrijf Rotterdam initiative.
CO2 storage under the North Sea (Porthos)
The capture of the greenhouse gas CO2 for subsequent reuse or storage underground is one of the measures that the energy-intensive industry can take to considerably reduce CO2 emissions in the short term. This is called Carbon Capture Storage or CCS. The Fourth Rutte cabinet coalition agreement and the Dutch Climate Agreement underline the importance of CCS in realising national climate objectives.
Heat network: heating houses and greenhouses with heat from industry
The Netherlands will be supplying heat in a different way in the future. Currently a lot of natural gas is used in homes and horticultural greenhouses. At the same time, industry in the Port of Rotterdam creates a lot of heat for industry processes. Part of this is reused in other factories, but most of the heat disappears into the air. The port of Rotterdam and Gasunie are working together to reuse this residual heat as a replacement for natural gas in households and greenhouses. CO2 emissions will also be reduced, and less gas will be needed from Groningen.
Start of construction of heat pipeline between the port of Rotterdam and The Hague
Gasunie and the Ministry of Economic Affairs and Climate Policy have taken the final investment decision for the construction of a heat pipeline from the port of Rotterdam to The Hague.
PILLAR 2: A NEW ENERGY SYSTEM
Pillar 2 involves changing the energy system. Instead of using oil and gas for heating, industry will switch to electricity, hydrogen and green hydrogen. This demands a lot of and affordable electricity from sources such as sun and wind.
Wind turbines in the port area
North Sea Wind Power Hub
Within the North Sea Wind Power Hub consortium, TenneT (The Netherlands and Germany), Energinet (Denmark), Gasunie and the Port of Rotterdam Authority are working on the development of a large-scale, sustainable European energy system on the North Sea. Wind farms will be connected to centrally located hubs at sea, and North Sea countries and hubs will be connected via cables or pipelines.
Backbone for hydrogen
The Port Authority is working with Gasunie to develop a backbone for hydrogen across the port. The plan is for this to be operational as early as 2024. Companies will be able connect to this network to collect or supply hydrogen. Wind-powered electrolysers will connect the main transport line to several central points where the hydrogen is produced. In practice this will involve multiple locations, the first of which is being planned on Maasvlakte 2.
This setup will stimulate hydrogen use in industry as well as the development of the hydrogen market. The Port Authority is working with partners to develop both blue and green hydrogen, with blue hydrogen preparing the way for the later arrival of green hydrogen. This offers potential for a rapid increase in sustainability, as the infrastructure for 'blue' will soon also be suitable for 'green'.
Read the press release 'Rotterdam boosts hydrogen economy with new infrastructure'
Read more about hydrogen
Green hydrogen for BP refinery
BP, Nouryon (formerly AkzoNobel Specialty Chemicals) and the Port of Rotterdam Authority are investigating the possibilities of producing green hydrogen for the BP refinery in Rotterdam. Green hydrogen is produced by electrolysis of water using green power. Large-scale production of green hydrogen requires huge amounts of green electricity, for example from offshore wind farms. This also demands substantial electrolyser capacity. That's why the Port of Rotterdam Authority is also investigating the required hydrogen infrastructure, as well as the option for a special industrial site for electrolysers.
Green hydrogen plant Uniper
Energy company Uniper and the Port of Rotterdam Authority have entered into an agreement for developing the production of green hydrogen at the Uniper location on Maasvlakte. These plans build on the findings of a recent feasibility study and are in line with the new hydrogen infrastructure that has been planned and the growing demand for sustainable hydrogen from the Rotterdam petrochemical industry.
Read more about the hydrogen plant in the press release
Port of Rotterdam Authority's contribution to the Energy Transition
The Port Authority is also contributing to an energy efficient port. A third of patrol vessels runs 100% on biofuel. We are also stimulating employees to travel by public transport or bicycle. For lease car drivers, a CO2 standard of 59 g/km applies. The office uses heat from the port and green electricity. And throughout the port, the Port Authority is replacing the public lighting with LED.
Shell to open green hydrogen plant; Gasunie and Port Authority jointly realising infrastructure
The hydrogen economy is quickly gathering momentum after Shell announced its plans to take a green hydrogen plant into operation as early as 2023. This plant with be constructed at Maasvlakte 2. From here, the produced hydrogen will be transported via a pipeline to Shell's refinery in Pernis. Gasunie and the Port of Rotterdam Authority intend to realise this new pipeline in a joint venture.
Read on about the new green hydrogen plan in the press release: 'Rotterdam boosts hydrogen economy with new infrastructure'
Importing blue ammonia
Horisont Energi (EURONEXT: HRGI) and the Port of Rotterdam today announced that they have signed a memorandum of understanding regarding setting up a corridor for transport of blue ammonia from Norway to Rotterdam.
Read the full press release
Study for commercial-scale hydrogen imports
Port of Rotterdam Authority, Koole Terminals, Chiyoda Corporation and Mitsubishi Corporation have signed an agreement to a joint study the feasibility of a commercial-scale import of hydrogen from overseas sources to one of Koole's terminals in the port of Rotterdam utilizing Chiyoda's proven hydrogen storage and transportation technology SPERAHydrogen™.
Read the full press release
Electrification of industrial processes
The Fieldlab is an initiative by 5 founding partners to support the energy transition in Rotterdam Industrial harbour area in a practical way. Our Goal is to accelerate the development and implementation of electrified value chains in the Rotterdam-Moerdijk industrial cluster making use of innovative technologies, unique knowledge, and support and technical facilities to implement market-ready solutions.
Visit the website of FLIE
Several Rotterdam terminals to be ready for hydrogen imports by 2025
In the Port of Rotterdam, the first companies are busily preparing for the storage, processing and transit of hydrogen: a promising energy carrier that will allow companies to make the transition to climate neutrality.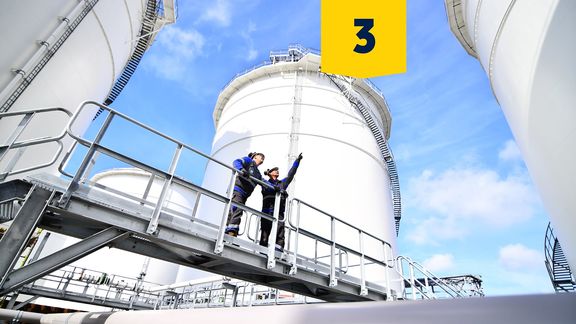 PILLAR 3: A NEW MATERIALS & FUEL SYSTEM
This pillar involves the replacement of fossil fuels. This can be done through the use of biomass, recycled materials, green hydrogen and CO2.
Full recycling of contaminated building materials
Rotterdam company REKO has built a new plant for the cleaning of contaminated asphalt. Asphalt is subject to thermal cleaning at the plant in a rotating drum oven at temperatures of 1,000 degrees Celsius. This produces clean sand, gravel and filler that can be reused. The plant also generates electricity for no fewer than 50,000 households. With this new plant, REKO will have the world's largest capacity for recycling these types of contaminated building materials.
Chlorine waste as new raw material and energy
Waste processing company Indaver not only processes and manages waste, it also goes a step further. The plant named IndaChlor processes chorine waste throughout Europe, including from industrial companies from the Port of Rotterdam. Chlorine waste is converted into new raw material and energy. These are supplied in a closed circuit to adjacent industry.
Recycling batteries from electric vehicles
TES, one of the world's largest battery and electronic waste recycling companies, is building a plant in the port of Rotterdam to recycle electric vehicle batteries. The company rents premises on Elbeweg and has the opportunity to expand here to a total of approximately 40,000 m2. This will be the Netherlands' first recycling plant for lithium-ion batteries. The number of electric vehicles is set to increase exponentially in the coming years and the demand for raw materials to make batteries will rise accordingly. TES aspires to turn this location in the port of Rotterdam into a state-of-the-art European location with – ultimately – a capacity of 25,000 tonnes. The first phase of the project will be operational by the end of 2022, and the plant will be capable of processing 10,000 tonnes of batteries. Cobalt, nickel and lithium are subsequently recovered as raw materials for making new batteries.
Read the full press release
Neste opts for sustainable expansion in Rotterdam
Neste chooses Rotterdam as the intended location for an investment of 1.5 billion euros to expand their production capacity for sustainable fuels (renewable diesel, kerosene) and raw materials for the chemical industry.
Finnish UPM considers building biorefinery in Rotterdam
UPM moves forward with biofuels growth plans and starts the basic engineering phase of a next generation biorefinery. The potential biorefinery would have an annual capacity of 500,000 tonnes of high-quality renewable fuels including sustainable jet fuel.
Sustainable aviation fuel and renewable diesel
Royal Dutch Shell plc (Shell) announced a final investment decision to build an 820,000-tonnes-a-year biofuels facility at the Shell Energy and Chemicals Park Rotterdam, the Netherlands, formerly known as the Pernis refinery.
PILLAR 4: MAKING LOGISTICS CHAINS MORE SUSTAINABLE
As well as industry, the transport of freight to, in and from the port area must become climate friendly. Together with partners, the Port of Rotterdam Authority is developing a series of activities to help the logistics sector reduce CO2 emissions in pillar 4.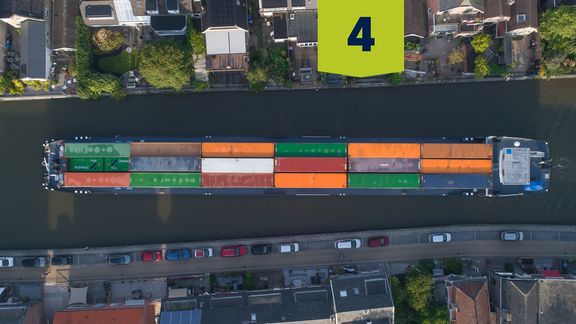 Raising sustainability in inland shipping
Emission-free inland shipping
Electric sailing is an option to reduce CO2 emissions in inland shipping. With seven partners, the Port Authority is one of the initiators of the Green Circles programme, which aims to introduce interchangeable battery containers. Heineken will be the first user on the Amsterdam-Rotterdam-Antwerp corridor. Various other parties are also working on hydrogen demonstration projects. The Port Authority is supporting all these initiatives, including with discounts on inland port dues.
Shore power trials for sea-going vessels
Sea-going vessels that arrive in Rotterdam need power at the quay for the power supply on board. Diesel generators are currently usually used for this. The huge consumption of sea-going vessels makes the connection to a power grid more complex than for inland shipping. The Port of Rotterdam Authority considers it important that shore power is available for sea-going vessels, as this improves air quality. That is why a test location is being established. The Port Authority is working on this in partnership with the Municipality of Rotterdam. Companies Heerema, Eneco and the Port Authority have also started a feasibility study into green shore power in Calandkanaal.
Digitisation leads to lower energy consumption
In Rotterdam, digitisation is used to further improve the efficiency and reliability of the logistics chain. In practice this results in lower transaction costs in booking cargo, and also to lower energy consumption through shorter sailing routes and accelerated handling of cargo.
Air Liquide and Port of Rotterdam Authority: hydrogen road transport
Air Liquide and the Port of Rotterdam Authority announce the launch of a jointly created initiative, which aims at enabling 1,000 hydrogen-powered zero-emission trucks on the roads connecting the Netherlands, Belgium, and West Germany by 2025. Several partners representing the whole supply chain, from truck manufacturers such as VDL Groep, Iveco/Nikola to transport companies Vos Logistics, Jongeneel Transport and HN Post, as well as leading fuel cell suppliers have already agreed to join.
This is one of the largest projects in Europe for the development of hydrogen trucks and related infrastructure and will contribute to improve air quality by reducing by an estimated amount of more than 100,000 tonnes CO2 emissions per year, which is equivalent to 110 million kilometers driven.
MAGPIE, smart green ports of the future
MAGPIE has the ambition to force a breakthrough in the supply and use of green energy carriers in transport to, from and within ports. We will create energy efficiencies and support developments that make green energy carriers available to the users. By demonstrating and implementing smart solutions in the realm of digitalization and automation, we will facilitate and contribute to the decarbonization of port related transport.
MAGPIE - European project smart green ports (magpie-ports.eu)
More information? Contact:
Nico van Dooren
Director Energy and Industry