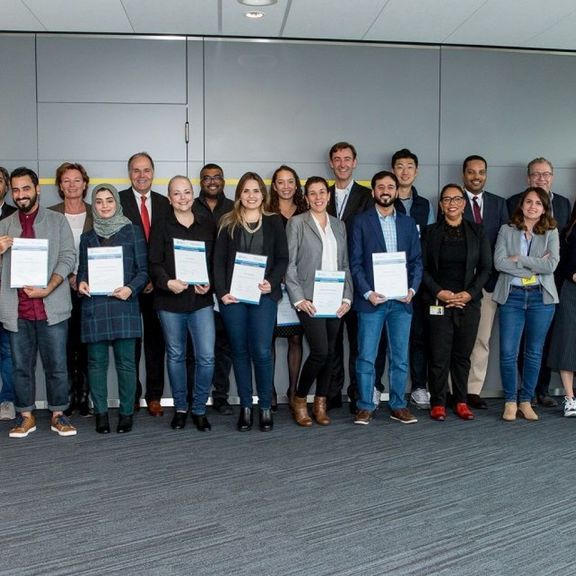 Together with partners, the port of Rotterdam offers port professionals a deeper and more nuanced understanding of the complex dynamics of the port industry via different training (personalised) programs.
Port development and management present major challenges including adjusting ports to rapidly changing market dynamics. Challenges like how to make plans about the future port infrastructure, needs of a country without jeopardizing the current port activity play a significant role in the course. These are the challenges which governments, port authorities, and port operators increasingly have to contend with.
Port Management Program
10-14 October 2022
5 consecutive days
Costs: € 3.500,- ex VAT
During this multi-day course, participants will be introduced to all major aspects of world-class port management. Topics covered will include: port development, planning and managing a port, stakeholder management and commercial activities of a port. The course concludes with the interactive port simulation game Port Constructor.
Port Management Program - Digitisation
17-19 October 2022
3 consecutive days
Costs: € 1.500,- ex VAT
The Port Management Programme Digitalisation is a 3-day offline course. The participants are introduced to the most important aspects of digitisation within a port. During the 3 days, various topics are covered, in which we approach digitisation from a local, regional and global perspective. A varied programme with various guest speakers, visits to several digital initiatives, interactive workshops and, of course, enough space to reflect the knowledge gained in their own environment, will give the participants new insights into how digitisation can be of added value for a port.
Please note that the maximum number of participants is limited.
The cooperation programmes of STC International and Port of Rotterdam Authority can be found in the brochure.
Port Executive Leadership Circle
28 November - 2 December 2022
5 consecutive days
Costs: € 7.500,- ex VAT
Rapidly changing market dynamics present ports with major challenges. A mind shift is required to look critically at existing business models, while simultaneously developing new ones. Leading transitional change requires a different type of leadership. This is why Erasmus University Rotterdam and Port of Rotterdam are combining their knowledge and expertise to offer The Port Executive Leadership Circle. This five-day executive programme allows professionals from port authorities, port stakeholders or captains of industries, to be part of an ongoing cycle of learning journeys, while enabling collaboration with other ports in a growing international network of port executives.
Advisory services and port management
Port of Rotterdam offers broad consultancy for the development and management of ports and industrial areas. When it comes to Port Management our experts can join your organisation for a longer period of time.
Working and learning
The port of Rotterdam offers career opportunities at all levels, whether you have completed an intermediate or a higher vocational education or have a university degree.
More information? Contact:
Brenda Bussem
Advisor international Training & Education