Building sand castles, sunbathing and swimming, kite surfing or going for a brisk walk. It is all possible on the Maasvlakte beach.
Maasvlakte 2 has a beach many kilometres long for all types of people. Whether you are a sun-worshipper, an enthusiastic kiter, or someone looking for a place to get a breath of fresh air with the dog, the Maasvlakte beach is the place to go. Several car parks provide free parking. Action lovers can go to the sport beach near P5 and P6. The nudist beach is north of P1. Sun-worshippers and swimmers are welcome to use the beach near P1, P2 and P3. The lifeguard station can be found between P2 and P3. Near P6 as well as south of the Slufter, bird spotters find perfect locations for their hobby.
LOOKING AT ART
An impressive work of art can be seen in the dunes at P3. De Zandwacht (Sand Watch) can be reached by foot and depicts how the dunes were formed by wind and sand. Its construction marked the completion of the Maasvlakte 2 construction. It was designed by the internationally active Rotterdam artist collective Observatorium. An ideal place to take pictures!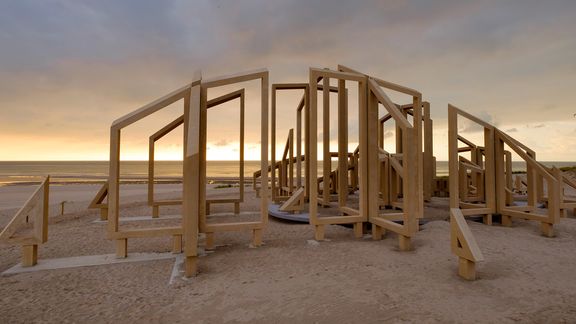 More beach
Besides the Maasvlakte beach in the port area, you can also visit Oostvoornse Meer, a paradise for divers, and it is a dream for anglers and surfers too.
Or what about the 3.5-mile-long beach at Hoek van Holland? Go for a walk or a swim or plonk yourself down at one of the beach bars.