VIP-deck
FutureLand offers a truly unique meeting and reception location in a very special place, in the heart of Rotterdam's newest port area. You can use the VIP Deck; the comfortable area at the top of the information centre. The glass wall offers non-stop views across the development of the world's most modern port area. And with the most innovative container terminals at your feet, this inspiring environment guarantees that your event will be a success.
Space for up to 80 people. Various seating arrangements possible:
Theatre lay-out (80 persons)
Square, classroom, or U layout with tables (36 people)
Projector, sound system, automated shading, wireless internet and air conditioning available.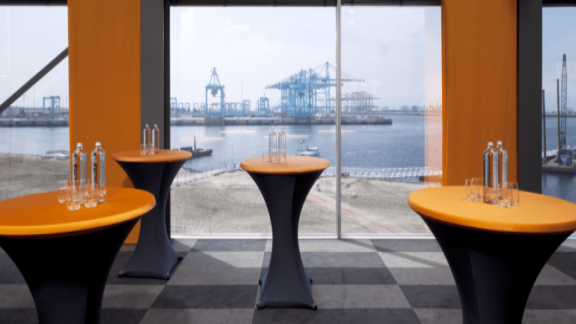 Customised tour and bus or boat trip
Transform your meeting or activity into an informative event. Book a tour around FutureLand or a customised presentation about Maasvlakte 2. A FutureLand Express bus tour across the new land and a boat trip through the new ports on the FutureLand Ferry offer unique views of the Port of Rotterdam's expansion. Our information officer will be delighted to discuss the details with you.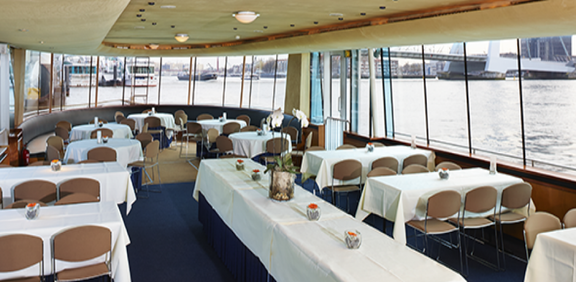 catering Lunch Port
Having Lunch Port as permanent FutureLand caterer offers many culinary possibilities. Enjoy drinks and a bite to eat in our restaurant or on the terrace when the weather is fine. You can also arrange delicious culinary surprises during your events at FutureLand.
100% natural, 100% delicious
For this rare combination, Lunch Port uses the very best produce and doesn't add any unnecessary ingredients, such as e-numbers or substances with strange names. All dishes are prepared fresh every day, ensuring that everything tastes delicious. Because that's what New Fork is all about: delicious and healthy eating!
Make a booking
You can find all you need to know about the various options in the price list overview.
Please contact FutureLand to book this unique location:
T: +31 (0)10-252 252 0
E: info@futureland.nl
What visitors think of us