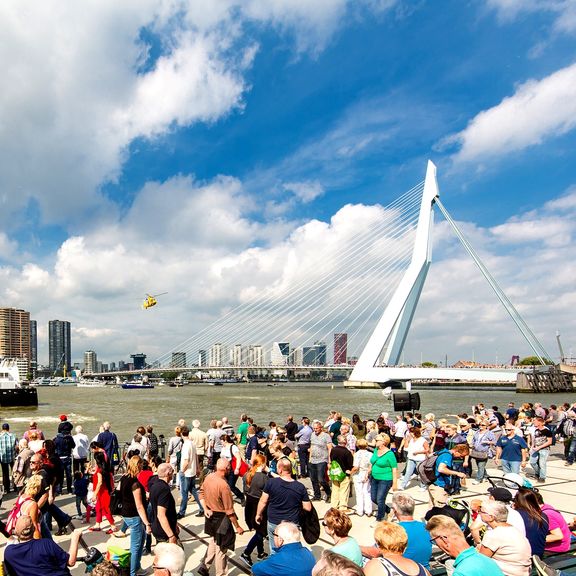 World Port Days
11 May 2021
The 46th edition of the largest annual maritime event in the Netherlands will take place on 1, 2 and 3 September 2023 in Rotterdam. Through countless quay activities, shows on the water and excursions, visitors discover the versatility, innovations and career opportunities of the port of Rotterdam.  
The World Port Days Foundation increasingly sees the role that the event plays in providing information about the career opportunities of the port. In the coming years, thousands of new people will be needed to fill the vacancies associated with the energy transition and digitization of the port. The organization will therefore focus even more on the labor market and career in the upcoming edition, said Sabine Bruijnincx, director of the World Port Days Foundation, during the kick-off in the Van Ghent barracks: "We will go even further with our career event on 1 September .MATCH. We have entered into a partnership with 'werkeninderotterdamsehaven.nl', a new initiative by the Municipality of Rotterdam, the Port of Rotterdam Authority, Deltalinqs and the business community, which connects seamlessly with MATCH. The students of Hogeschool InHolland will also be making radio broadcasts again this year and we will be adding even more activities aimed at young people. But we also don't forget lateral entrants who are interested in a career in the port."
In addition, there is of course a lot to experience for young and old during the World Port Days 2023, with countless activities on the quays around the Erasmus Bridge, spectacular shows on the water and excursions that offer a look behind the scenes of the companies in the port area.
New and familiar faces 
The World Port Days Foundation introduced the new team and board members who have come to strengthen the organization in the Van Ghent barracks. For example, a new chairman of the board has been found in Niels Woudstra. Woudstra used to work for the Royal Netherlands Navy, just like his predecessor Bert Aben, who left the Foundation after nine years as chairman.
The organization is currently working hard on the content of a program full of surprising, new and familiar components. For example, the return of the Zr.Ms. Karel Doorman of the Royal Netherlands Navy confirmed. The E1 powerboats will also return to Rotterdam. These futuristically designed hydrofoil racing boats reach a speed of up to 93 km/h and are the future of sustainable racing on the water.
Upward trend 
The World Port Days will continue its upward trend in 2023, Bruijnincx concludes, "We are committed to showing even better what is going on in the port and who the people and companies are that make the port of Rotterdam such a dynamic, smart create a safe place, where people work hard towards a sustainable and liveable future and where there is a career for everyone."
More will be announced later this spring about the full program and ticket sales for the excursions of the World Port Days 2023.