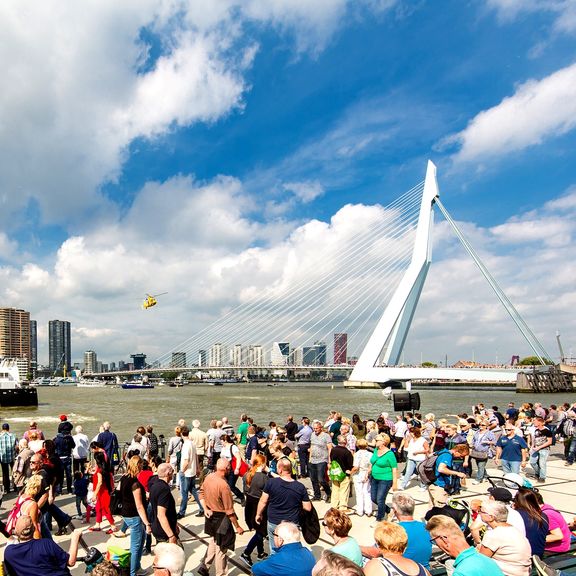 World Port Days
11 May 2021
As is traditional, the Port of Rotterdam will be in the spotlights during the World Port Days on 3, 4 and 5 September 2021. This year's event has a diverse online and adapted in-person programme, in keeping with the measures still in place for large public events.
During the World Port Days, you can take various excursions and tours to learn all about the port and port companies. A digital programme also forms part of this 44th event. The quay programme, demonstrations on the water and the evening show will not go head this year.
Excursions and tours
A range of excursions will take place again this year so you can enter the port area and get to know the Port of Rotterdam. There are also port tours that visitors can make on their own and excursions in the city centre at the weekend. The Port of Rotterdam Authority will again be organising various fun, interesting and surprising excursions to present the port from a different perspective. The programme will be announced on 15 July 2021 and ticket sales will start on 20 August via www.wereldhavendagen.nl.
In the city
A travelling Port quiz is a new feature this year. You'll encounter us in the city so take part to win great prizes! The photo exposition, introduced last year, will again be held in the city centre. The 'Working in the Port of Rotterdam' exposition on the outer facade of the Maritime Museum presents the people who work every day to keep the port operational. You can also get to know these professions on a route past various city centre shop windows. The photo exposition will be on display from 28 August to 30 September 2021.
Online
If you prefer to stay home or if want to make sure you don't miss out on anything, you can watch the digital programme on Saturday 4 September. In the spectacular port show, presenter Richard Groenendijk will receive guests in the studio, you'll be able to take a look behind the scenes at companies in the port and there are great prizes to be won. Drones Amy and Djimmy, introduced last year, are also back and will present Rotterdam and the port to viewers from their own unique perspective.