In Northwest Europe, Rotterdam is the absolute leader in the throughput and storage of crude oil. The 95 to 100 million tonnes of crude oil annually entering Rotterdam are almost entirely destined for refineries in the port itself and in the Netherlands, Belgium and Germany. In addition to the import and crude oil storage, the port of Rotterdam also offers opportunities as a distribution hub for petroleum.
Ideal oil port for Europe
The port of Rotterdam is a very convenient choice for the supply and transit of crude oil in Europe. The crude oil in Rotterdam comes mainly from the Middle East and the North Sea region. Since the tank terminals are located directly on deep water and Rotterdam has no locks or tides, Rotterdam can accommodate even the largest oil tankers such as ULCCs and supertankers with a capacity of 500,000 DWT. Through an extensive network of pipelines, the crude oil is transported efficiently and safely to the refineries.
Oil refineries and crude oil terminals in Rotterdam
In Rotterdam, oil tankers unload crude oil at crude oil terminals in the Europoort and on the Maasvlakte. There, the oil is mixed to the specifications of the refineries, which is called blending. The crude oil terminals then pump the crude oil to the refineries through a network of pipelines. Half of it is transported to refineries of BP, ExxonMobil, Shell and Vitol in the port of Rotterdam. The other half is transported to refineries in Vlissingen, Antwerp and Germany. At the refineries, the crude oil is processed into various oil products, such as petrol, diesel, LPG, fuel oil and naphtha.
More information? Contact: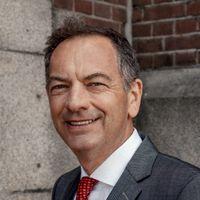 Jaap van Dalen
Business Manager Oil and Refining