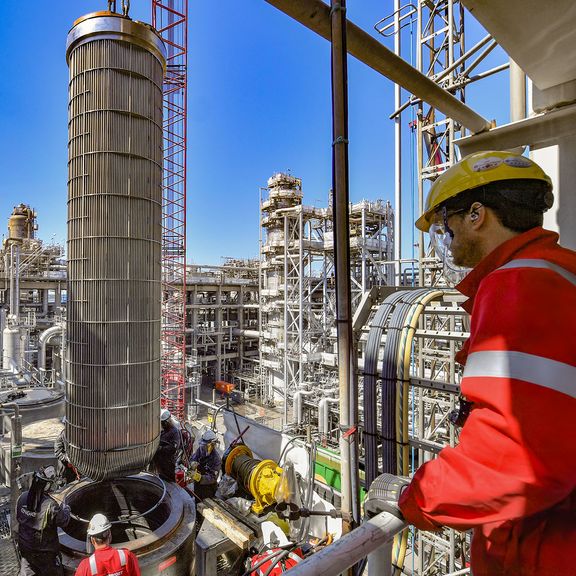 Mineral oil products
11 May 2021
With its ideal position, large tank storage capacity and considerable own production, the port of Rotterdam is an attractive location for the handling of and trade in oil products.
Fuel oil, diesel, kerosene, gasoline, naphtha and bitumen come from places such as the Baltic states, the United Kingdom and the refineries in Rotterdam. They are largely destined for the European market, Asia and the Middle East.
Ideal port for oil product trade
The port of Rotterdam lies literally on the route of many international trade flows for the handling of oil products. The port is consequently a logical choice for bundling or distributing oil products. The port of Rotterdam has excellent pipeline, barge and rail services for transit in Europe. The possibilities by sea are endless as well. Moreover, the five oil refineries of BP, ExxonMobil, Gunvor, Shell and Vitol in the port area and the refineries in the hinterland are major producers of oil products, which contributes to the scale and business climate.
'Price benchmark' location
Rotterdam is recognised worldwide as a trade location for many oil products. Due to its huge capabilities for storage, handling, bundling and transhipment, large volumes are traded in the port of Rotterdam. This makes Rotterdam a 'price benchmark' location in Northwest Europe. Price reporting agencies set their benchmark prices based on the trade in Rotterdam.
Storage of fuel oil, gasoline, diesel, naphtha and kerosene
Tank terminals are the beating heart of trade in Rotterdam. Oil products such as fuel oil, gasoline, diesel, naphtha and kerosene can be stored in the storage tanks until they can be traded or shipped at the right price and in the right quantities. Furthermore, the fuel storage tank locations provide access to the European and Rotterdam pipelines to which, for instance, various airports are also connected. Via inland tankers, a large part of the European market can be reached. In Rotterdam, independent tank terminal operators together offer storage capacity for oil products of approximately 7.5 million m3 at more than twenty terminal locations.
Safe and efficient ship-to-ship transfers at buoys and dolphins
Besides storage and handling at the tank terminals, the port of Rotterdam also offers extensive possibilities for safe and efficient ship-to-ship transfers. The port of Rotterdam is the only place in the world with this many buoys and dolphins. At these buoys and dolphins oil products can be transferred directly from one seagoing vessel to another or to an inland vessel and vice versa.
More information? Contact:
Sjoerd Figdor
Business Manager Tankstorage