Energy transition
Giant wind turbine on Maasvlakte 2
18 November 2021
The world's largest wind turbine, Haliade-X, is being tested on Maasvlakte 2. This 'test rig' was realised via innovative cross-pollination between the American GE Renewable Energy, Sif Netherlands and Pondera Consult.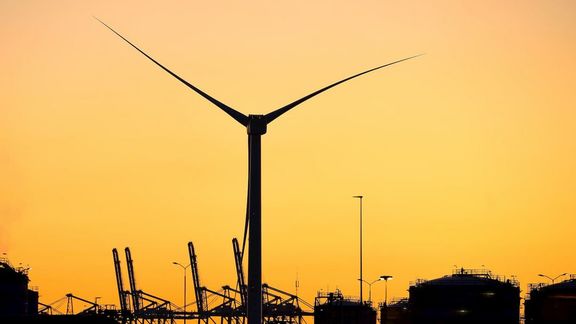 Huge 107-metre-long blades have recently started rotating on Maasvlakte 2. These are part of the Haliade-X12 MW, the world's most powerful wind turbine. It is 248 metres high and has a 12-megawatt capacity, sufficient to generate energy to supply electricity to some 16,000 households in the region. As comparison: the wind turbine next to Van Brienenoordbrug has a maximum 3-megawatt capacity.
Ideal test location
Sif Netherlands is building the foundations for offshore wind farms on the 62-hectare site on Pieter van Vollenhovenweg. And it recently also started to be a test location for the Haliade-X.
"The wind turbine is ultimately intended for a location at sea. Maasvlakte 2 is located some distance from residential districts, close to the sea, has comparable wind conditions to the sea and is easily accessible. GE is also able to sell the generated electricity easily. This makes it the ideal test location. It was vital that the Haliade-X prototype could be launched quickly so we could stay ahead of the competition." — Nathalie Bourges, GE Renewable Energy
Future Wind
The wind turbine will be tested extensively over five years to enable an assessment of wind turbine performance and operational procedures. Sif and Pondera (sustainable energy advice agency) have established the 'Future Wind' joint venture for this. GE Renewable Energy has signed an agreement for five years of testing and fifteen years of service and maintenance.
Innovation cross pollination
The arrival of Haliade-X at Maasvlakte 2 fits entirely within Rotterdam's aim to become a leader in sustainable energy. To achieve this, the Port Authority is stimulating initiatives that result in a 'smart' and 'clean' port - and connects parties together where innovative cross pollination is possible. As in the case of Sif and GE. 'The first contact was made via the Port Authority,' explained Diederik de Bruin from Sif. 'They told us about the GE plans and connected us together.'
In production by 2021
The project fitted entirely within Sif's aim for CO2-neutral production. 'We are using a large proportion of the generated wind energy to supply our product locations in Roermond and Rotterdam with electricity. We are also supporting GE where necessary and making the space available.' The end goal of the test phase is the certification of the wind turbine, so that the turbine can be taken into mass production. The first types of these wind turbines should be delivered by the second half of 2021.