Energy transition
MAGPIE at the World Conference Cities and Port in Tangier
13 May 2022
MAGPIE has the ambition to force a breakthrough in the supply and use of green energy carriers in the transportation from, to and within ports. Reyer Will, Manager of the European MAGPIE project, was on stage this week at the AIVP World Conference cities and ports.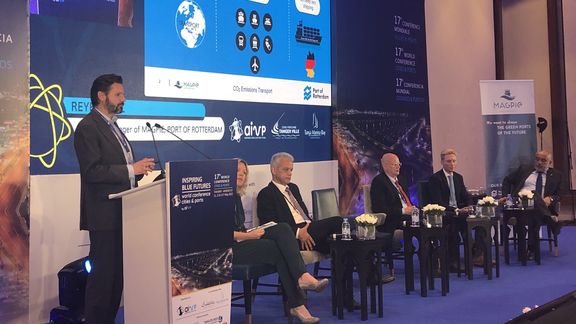 In a discussion session with the Port of Antwerp (PIONEERS Project), Port of Sines, HARAPO Port, SIE and the Port Authorities of New South Wales knowledge has been exchanged about the use of green energy carriers in transport to, from and within various types of ports. The session was moderated by Larissa van der Lugt (ERASMUS UPT).
Reyer explains the Living Lab approach of the MAGPIE Project. This approach is an effective, multi-actor governance arrangement that facilitates the interaction between partners executing the demonstrator with other project partners as well as external stakeholders and the public. In a living lab, innovations are tested and demonstrated in a real-life environment.
"In Tangier, we had the opportunity as MAGPIE to share our approach with other ports and cities, explains Reyer. The questions from the moderator and audience challenged the projects on cooperation beyond the projects. Also, if it is the goal of sharing the results not only with the fellow ports and how we foresee to cooperate with authorities. Sharing is intended to be as brought as possible and authorities are for example represented in the advisory board of the project. It was good to learn the interest of the members of AIVP in the Green Ports projects and to share the enthusiasm to tackle climate change and work on sustainable developments."