An accessible port
Possible to follow placement of Theemsweg rail bridge online
02 April 2020
The port of Rotterdam is on the eve of one of its most spectacular infrastructural highlights. The new rail bridge will be placed across the Rozenburgsesluis on 4 April. This is an important part of the new Theemsweg Route: the relocating of the Port railway line near Rozenburg.
Access operation
The preparations for this access operation are fully underway. The bridge will be jacked up to six metres on Thursday. The SPMTs (self-propelled modular transporters) from Mammoet that are going to relocate the bridge will then be installed under the bridge. The bridge will be driven in the direction of the Rozenburgsesluis where it will be transported across to the east side on a pontoon on Saturday morning. From there it will be driven alongside the lock across a specially laid track of broken rubble (repac) and sand to its final position. The bridge will be placed on two pillars at the final destination on Saturday morning. The accompanying animated video shows how the bridge will be relocated.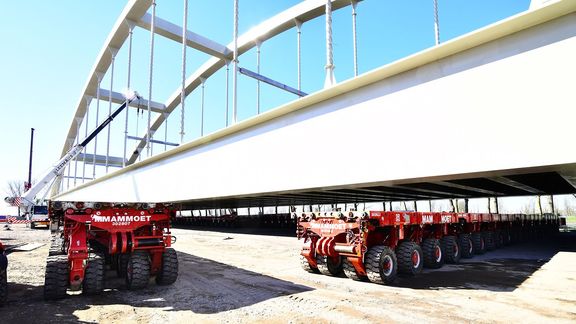 Dimensions
The bridge, built by Iemants in Belgium, comprises 4,500 tonnes of steel, is 176.8 metres long and 30 metres high, and its 20-metre width is spacious enough to accommodate a double track.
Construction consortium
SaVe is a construction consortium made up of BESIX, Dura Vermeer, Mobilis, Hollandia and Iemants and is constructing the substructure of the Theemsweg Route, a 4-kilometre stretch of concrete viaduct and two steel arched bridges, commissioned by the Port of Rotterdam Authority.
Bottleneck solution
The Theemsweg Route is a €300-million solution to the problems associated with the Calandbrug near Rozenburg. This steel vertical-lift bridge for rail and road traffic in the Port of Rotterdam area is the connecting link in the Betuwe Route to the European hinterland. For ocean shipping, the vertical-lift bridge forms the gateway to the Brittanniëhaven. 'The Theemsweg Route is in line with the Port Authority's policy for making the hinterland connections more sustainable and the rail, road and shipping traffic more efficient. Due to the growth in rail transport and ocean shipping traffic to and from the Brittanniëhaven, the Port Authority provides a capacity bottleneck solution for rail traffic. The construction of the Theemsweg Route resolves this bottleneck,' says Ronald Paul, COO, Port of Rotterdam Authority.
To be followed live at home
It goes without saying that work on the Theemsweg Route is in line with the NNIPHE recommendations. The safety and health of the employees come first. In the interest of a safe access operation and on account of Corona/Covid-19, the work area is not open to the public.