Bereikbaarheid
Quiet first day in the port of Rotterdam after the Brexit deal
01 January 2020
At the ports of Rotterdam and IJmuiden, the first day on which customs formalities again applied to freight transport between the United Kingdom (UK) and the European Union passed quietly. There has been no congestion around ferry terminals. It has also stayed very quiet at the special Brexit buffer parking zones for HGV drivers whose documents are not yet in order.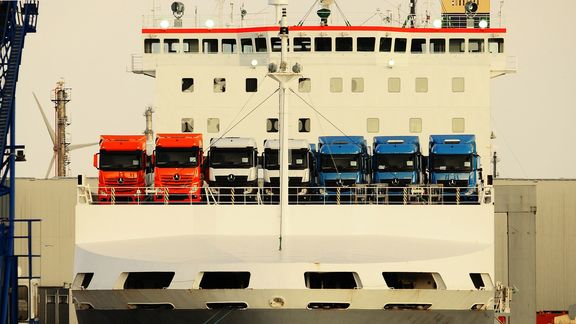 However, it is still too early to draw any conclusions. From Monday, 4 January, we will see the real impact of the Brexit on the port, and on the freight and traffic flows around the ferry terminals. On Friday, 1 January, an official holiday in the UK and the Netherlands, there were fewer crossings than there would be on a normal Friday. The sailing schedule over the weekend of 2 and 3 January was also different from the regular one. Furthermore, stockpiling in the UK meant there had been an above-average increase in freight shipped by ferry in the weeks running up to 1 January.
The Port of Rotterdam Authority, the Directorate-General for Public Works and Water Management, local authorities, ferry companies, customs, the Netherlands food and consumer product safety authority (NVWA), the police, the security region, Royal Netherlands Constabulary and Portbase have been working closely together to ensure the flow of freight to and from the UK runs as smoothly as possible and traffic disruption is avoided. For example, the Portbase port community system has been adapted to allow the digital pre-notification of freight. Ferry terminals will only accept cargo that has been pre-announced via Portbase.
Trucks belonging to forwarders who have not provided pre-notification of their cargo will be denied access to the terminal. Temporary parking sites have been specially set up for these trucks. They may stay there for a maximum of 24 hours so that digital pre-notification of the cargo can as yet take place. The Directorate-General for Public Works and Water Management has set up buffer parking areas and introduced traffic circulation measures so that any trucks that have been turned away from the ferry terminals can be directed quickly and safely to them at minimal inconvenience to other road users.