Sustainable profit
12 October 2021
CEO Egbert Vennik calls full reuse the supreme form of sustainability. It brought his company a higher turnover, and it doubled the profit.
The cables used in the maritime and offshore industry for hoisting and towing are frightfully expensive. After use, they were often put aside and forgotten. Until the Hendrik Veder Group, the manufacturer of the material, developed a new concept. The results: sustainability as well as a spectacular profit increase.
One and a half years ago, Egbert Vennik (58) joined the Hendrik Veder Group, the European front-runner in steel wire and fibre cables. Vennik has a background in shipping and transport. In the past two decades, he focused more on recycling and the environment. When he returned to the port, his primary emotion was one of amazement. 'I saw low-hanging fruit all around me,' Vennik says. The picture he draws is familiar to companies of all sizes. 'Every company is interested in contributing to sustainability. It's often a struggle. Big things, expensive complex processes, are the first things that come to mind, and nobody wants to lead the pack if the playing field isn't level.'
Sometimes, the thinking was as rusty as the forgotten cables themselves
Egbert Vennik
,
CEO
,
Hendrik Veder Group
Scrap value
He changed tack. Hendrik Veder started putting effort into collecting used cables. An organisation was set up that applies itself to inspecting, repairing, and certifying these cables. A neighbour's hall was taken over for storage. After all, this is also part of the solution. 'Cables are often left outside, exposed to every kind of weather, without anybody bothering about them. Eventually, the scrap value of the material is all that remains.'
This practice is not without risks, he explains. 'Scrap dealers want to make money and resell these types of cables. Don't be surprised when in an industrial accident in Bangladesh or somewhere else in the world a cable like this snaps. As a company you remain liable, though, with all the consequences that may entail. With this concept you can rest assured that your cable will never resurface in the parallel trade.'
Reuse
Hendrik Veder also built a database of cables that can be reused for other projects. The system comes in handy for hiring or buying a used cable. 'It shows immediately which cable is available anywhere in the world at any moment.' Full reuse is the supreme form of sustainability, as he puts it. 'And not only that. It also brings in money for us and our clients.' Of course, he had to convince these clients with some calculations first.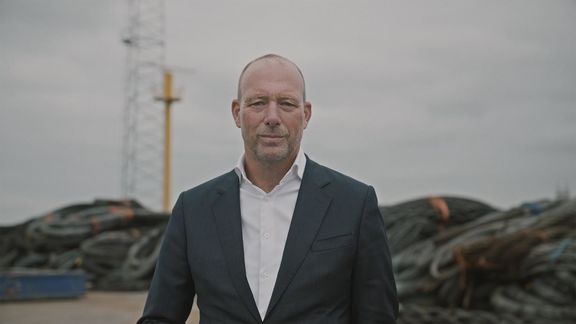 Sometimes, the thinking was as rusty as the forgotten cables themselves. Sustainable and yet profitable? Too good to be true. 'Until you show them that reuse is up to 70 per cent cheaper than having a new cable made.' Vennik also had to dispel a lot of suspicion. 'When you tell them you have your competition's cables in your database too, you seem to be saying something highly inappropriate. Everybody thinks they are the only one who looks after their things well. For a long time, we and our clients seemed to be living in two different worlds.' We also had to kill some sacred cows in our own organisation. Let's not forget that Hendrik Veder's business is selling heavy-lift products. 'We expect new skills from our sales staff. They had to learn to think in circular terms.'
Hand in hand
Several high-tech talents were hired to accelerate the transition and find new applications for the cables. 'Top talents from the university of technology, people you normally do not expect in our part of the market.' Not every cable qualifies for full reuse, 'but useful applications are always possible. Some cables are used as weights for fishing nets.' Granulate is made from synthetic cable material and then reused. 'We take it back to the raw material and make new products, ranging from children's toys to the ropes used at hockey or cricket fields.'
If you ask Egbert Vennik, ecology and economy go hand in hand. 'The proceeds are many times higher than the price of the material if scrapped.' Large players like Van Oord and Peinemann have joined the project. 'Participation of high-quality, innovative parties like these, causes a flywheel effect.' At Hendrik Veder, sustainability has quickly grown into a revenue model. 'Last year, our turnover increased by 38 per cent and our profit by 90 per cent. In the first quarter of this year, these percentages were exceeded by a wide margin.'
This article was published in AD supplement 'De aanpak'. This is a publication of ADR Nieuwsmedia in cooperation with Platform Transitions Rotterdam and is made possible by Deltalinqs, Eneco, Port of Rotterdam Authority, Hogeschool Rotterdam and Woonstad Rotterdam.