Energy transition
Wattlab makes inland shipping sustainable: stackable hatches with ultra-thin solar panels
02 August 2021
In the Rotterdam port, inland shipping vessels are sailing with ultra-thin but robust solar panels on the hatches. This is how the Rotterdam start-up Wattlab is making inland shipping sustainable. Bo Salet, co-founder of Wattlab: "With the energy transition, we have to make smart use of the space that is available. We are developing new applications for solar energy and generating energy where it is needed."
The workspace of Wattlab in De Kroon communal building is filled with solar panels, electricity cables and soldering irons. Bo: "Here, we develop and design. This workplace has been set up for rapid prototyping, so for making rapid prototypes. We compose the various layers of the panel ourselves and thus create solar panels with specific properties and shapes. In this way, we can make a wide variety of solar panels which meet unique requirements. From wafer-thin lightweight solar foils and bendable robust solar panels to flexible panels in any random shape. We integrate the entire solar system on existing products. This is why the total freedom of shaping, giving free rein to our ideas, is vital to us. With esthetically beautiful solar panels, our clients wish to achieve the maximum yield from the available space and furthermore all of that at an attractive price. This is our challenge!"
Better world
With the applications for solar energy, Wattlab makes a conscious contribution to the energy transition. Bo: "We are the first generation to fully realise what impact climate change will have on our lives and the last generation who can still do something about this. We wish to take on that responsibility. I am convinced that if we deal with climate change, at the same time we can create a better world. We must not minimalize the deterioration but seize this very situation in order to break through the standard and change it radically. In order to make progress and thus realize a better society for everyone."
Logical step
Improving solar energy is actually a logical step for Bo Salet, David Kester and Siebe Roef, the founders of Wattlab. In 2016, the three men got to know each other at the Nuon Solar Team of the TU Delft. Inspired by the light panels in the racing car, they decided to combine forces and apply their knowledge across the board. A year later, Wattlab was registered with the Chamber of Commerce. Very soon, the start-up was approached from many angles by people and companies with ideas for solar energy.
For instance, since 2019, the delivery vans of online supermarket Picnic drive round with ultra-thin solar panels which keep the groceries cool in the summer. Via via, that year Wattlab also came into contact with the world of inland shipping. Bo: "We wished to make inland shipping sustainable and approached Damen to explore the opportunities. At the same time, we were approached by a captain who wanted solar panels on his ship. Damen put us in contact with Blommaert Aluminium Constructions which makes for instance ship hatches for the shipping industry. Then everything soon came together. In autumn 2020, we operated our first pilot and in late 2020 the solar hatches were commercially available."
Freedom for the captain
Inland shipping may have the name of being conventional, but Wattlab has a different experience. "Soon, several captains were enthusiastic and wanted to take part in the pilot. The inland shipping world itself also sees the advantages of the solar hatches. By processing the solar panels in the hatches, we use existing space and we reduce a ship's emissions. This also gives the captain freedom, he is free to moor where he wants and is not dependent on shore power."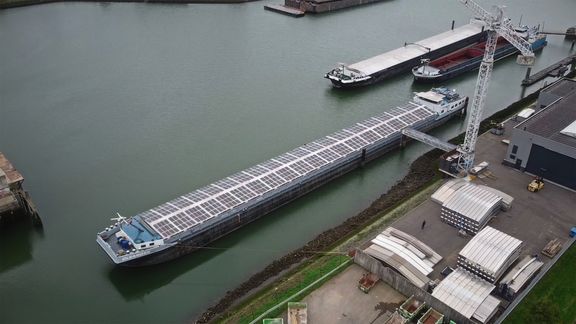 Silent night
The production does not lie: On an annual basis, 1 hatch generates an average of 2900 kilowatt hours, which is equal to the consumption by an average Dutch household. Bo: "A ship with a length of 110 metres has 22 hatches. So this generates a great deal of energy. Ships with an electric engine can deploy solar energy for propulsion and thus save on fuel. In addition, much energy is consumed on board. Think of cranes, pumps, the navigation, as well as the accommodation for the crew. You can also deploy the panels here instead of diesel generators. The return time for a captain is about 5 to 8 years and then you have free energy. And of course cleaner air, less maintenance costs and no noise from the generator, so silent nights again."
Resilience
Meanwhile, the second pilot is taking place and Wattlab has learned a great deal: "When we began, we knew nothing about inland shipping or ship hatches. Because loading and unloading can be rough, the hatches had to be able to withstand rough handling. We first made a system with lightweight panels on roller shutters because the stack height was still not a set requirement. When we succeeded with this at the end of last year, we could concentrate on the more frequently used stackable hatches, the 'Friesche kap', as they are called for inland vessels. In our last prototype, the solar panels including fixings, all the electrical connections and other electricals, are within the maximum available height of just 30 millimetres! We now have a product that is really ready for the market. Of course, it would be nice if the panels were fitted as standard on new-build ships. However, they are also suitable for retrofit, so where you replace the old hatches by the solar hatches on existing ships."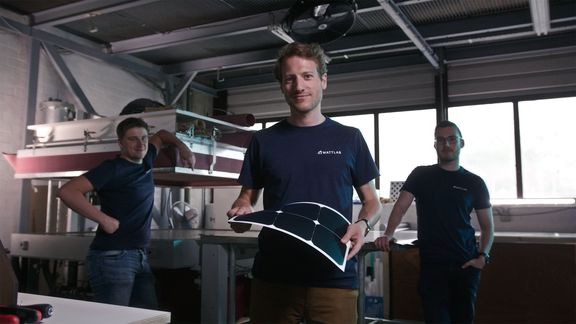 Shared challenge
Collaboration is a priority for Wattlab. "If a party sees opportunities, we are happy to support these. Conversely, we also experience this in Rotterdam and the port. Everywhere, we meet people who contribute ideas and help to make things a success. The city and the port encourage initiative and innovations. You also see that constructive attitude at the Havenbedrijf. We have a shared challenge: the climate problem. By collaborating, we increase the chance of a successful outcome."
The advice from Bo for other entrepreneurs who wish to dedicate themselves to a sustainable Rotterdam: "Just try it, go for it and talk about it. What you can do is extremely broad: from eating less meat to travelling by bike or using solar panels on your ship, you can contribute in all kinds of ways. You learn by falling on your face, don't be afraid and do what suits you!"