Accessibility
FutureLand is located at Slag Dobbelsteen on the boundary between the current Maasvlakte and Maasvlakte 2. All destinations in the port area have their own number. These port numbers are indicated on the signs. For FutureLand, follow number 8360.
Parking at Future Land is free. There are two charging points for electric and hybrid cars in the car park.
Address
Europaweg 902
3199 LC Maasvlakte Rotterdam
Port number 8360
At the existing Maasvlakte a lot of work is currently taking place on infrastructural connections between Maasvlakte 2 and the port area. If your satnav maps are not up-to-date, please use the following directions.
From Hoek van Holland > by water with RET
Fast Ferry | Hoek van Holland - Maasvlakte
In summer you can take the Fast Ferry to Maasvlakte. Prepare to be amazed during your ferry trip by the container giants and mammoth inbound and outbound tankers. FutureLand is easy to reach by bike from Maasvlakte. It's around 5 kilometres to FutureLand from the Fast Ferry stop. There is no public transport between the ferry service stop and the information centre. Check the RET website for the Fast Ferry timetable. Please note! In the winter, the Fast Ferry doesn't sail in the middle of the day or at weekends.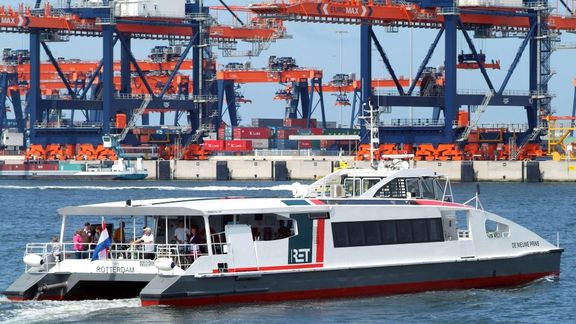 From Brielle > by bus with EBS
Maasvlaktehopper
This bus line provided by EBS has three stops on the Maasvlakte: Coloradoweg, Australiëweg and FutureLand. The Maasvlaktehopper runs directly from Brielle Busstation Rugge. This is the hub for the directions Spijkenisse/Rotterdam, Rozenburg and Hellevoetsluis. Please note: if you want to use this bus line, you need to make a reservation in advance by calling +31 88 655 77 24. Visit the internet site of EBS for the timetable and up-to-date information.
From Rotterdam centre> Spido day trip
FutureLand Experience
Make a time journey through the port and drive along 100 years of port development! Spido organises day trips to FutureLand on Sundays. Get on the coach at the base of Erasmusbrug and watch the port area pass you by on the way. You can also take a look into the future in the information centre. In addition to visiting FutureLand, you can take an extensive boat trip through the Maasvlakte 2 ports. More information and bookings.
Cycling network and bicycle service point
The port area is part of the national cycling network. This network enables you to plan a bicycle trip of any desired length. Follow the numbered signs to cycle easily from point to point. The signs also have an information board and a map. One of the points is located by the information centre, which is handy, because FutureLand is an ANWB Bicycle Service Point. You can find tools for minor repairs here, and charge your electric bike.
What visitors think of us