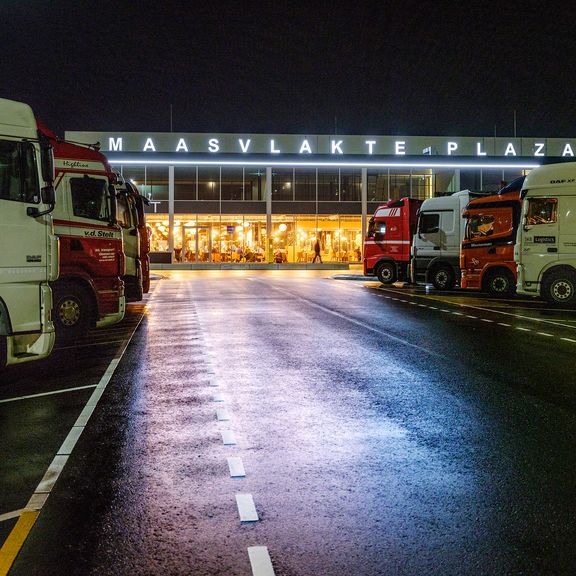 In the Rotterdam port area, truck drivers can safely park in the secure Truck Parks of the Port of Rotterdam Authority. There are five Truck Parks, two in the Botlek area, two in the Waalhaven area and one at Maasvlakte. These offer a total of 723 secure parking spaces for truck drivers.
Parking in the Port of Rotterdam
Maasvlakte Plaza
Comfort and safety: Maasvlakte Plaza offers all the mod cons for both drivers and vehicles. This large-scale truck stop has 357 parking spaces and can be accessed 24 hours a day. Open as of 4 May 2017.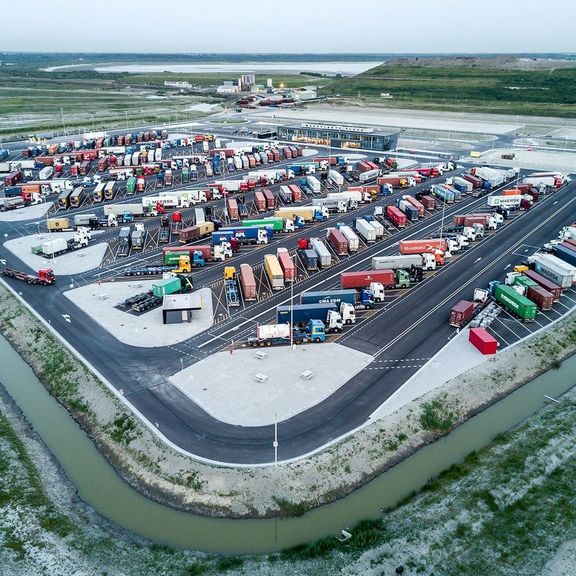 Secure, clean and affordable
The Truck Parks in Rotterdam are accessible 365 days a year, 24 hours a day. During the daytime parking is free; at night, the user pays a fee of €0.50 per half hour, with a maximum of €10. The design of the secure truck parks is in line with the European quality standard TPL. In addition to adequate basic services such as showers, toilets, fences, lighting, CCTV security and a relaxation area, the parks are equipped with Wi-Fi and power for cooling engines and they are cleaned regularly. The secure parking spaces in the port areas offer drivers a good opportunity to stop and rest during peak hours.
Advantages for drivers and businesses
Less risk of cargo theft
Personal safety
Opportunity to avoid peak hours in comfort thanks to excellent facilities
Getting back on the road well rested, thus reducing the risk of fines for violation of the driving and resting times
More efficient planning and cargo handling through coordination with terminals
Safe and attractive
Truck Parks contribute to the safety and attractiveness of the port of Rotterdam. The General Municipal By-Law of the City of Rotterdam prohibits spending the night in a truck outside the Truck Park. The ban on spending the night in trucks is enforced in the port area.
Parking spaces for trailers
There are parking spaces for loaded and empty trailers in the Truck Parks. For the moment, conditions include that no ADR and towing vehicles are allowed to park in the Truck Parks.