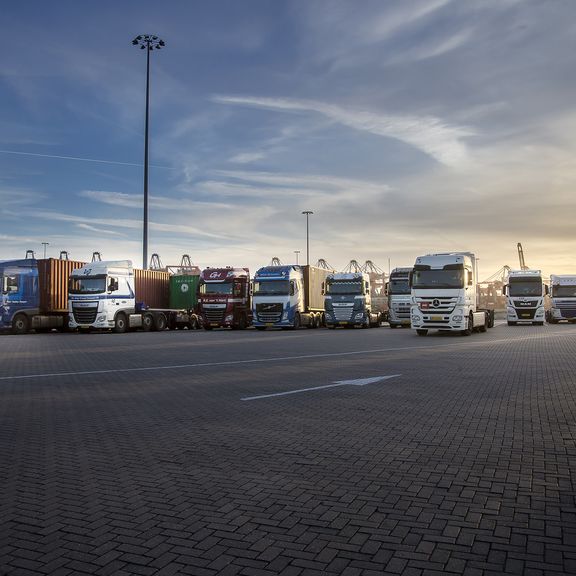 Transport by truck is a good way to cover short distances to and from the port of Rotterdam quickly. Trucks deliver your cargo directly to your door, irrespective of location or time. 40 per cent of journeys that leave the port by truck remain in the Rotterdam region. Half is destined for the Dutch market, and just 10 per cent of journeys from Rotterdam cross the border.
Are you driving to or from Rotterdam?
Check whether any roadworks are planned on your route.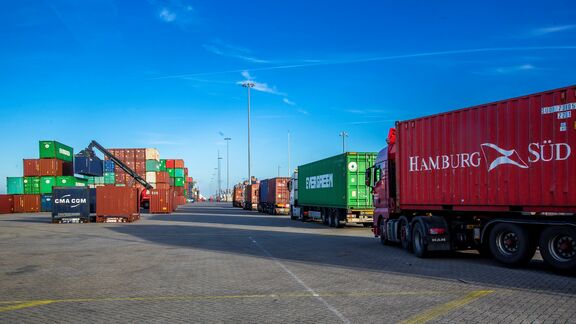 DISTRIBUTION OF ROAD TRANSPORT
Together with market players, we are exploring ways to improve the flow of freight in the port and make it more sustainable. Using on-board computer data, for example, shows us the impact of avoiding road transport during peak hours.
Improvements in road transport to and from the port
The A15 is the main artery for road traffic to and from the port area. The motorway links up well with the national and European motorway networks. Bridges, tunnels and viaducts allow for a smooth traffic flow in this densely populated area.
The TomTom Traffic Index, which is published annually, showed that Rotterdam has a relatively low traffic congestion score compared with other large sea ports in Northwest Europe. On average, a journey during rush hour in the Rotterdam region takes 25% longer because of traffic congestion. This is considerably lower than Hamburg (34%) and Antwerp (32%). A striking conclusion from TomTom's global research is that congestion around Rotterdam mainly stems from non-motorway roads: 33%.
The delays on motorways are lower than expected: 15% (Hamburg 31% / Antwerp 34%). To ensure that the port of Rotterdam remains optimally accessible and strengthen its position as a European logistics and industrial hub, the Port of Rotterdam Authority works closely together with various partners to further improve the accessibility of the port area.
Intermodal logistics planning
For longer distances, transport via inland shipping and by rail is more attractive. Nevertheless, road transport remains indispensable in intermodal logistics planning. The first or last part of a delivery often requires some road transport, for example to go from the inland terminal to the final destination. Transport by truck is also highly flexible and often serves as a backup modality if something goes wrong with transport by rail or via inland shipping.
Portbase for planning and information exchange
In the port of Rotterdam, Portbase's Port Community System is used for logistics planning and the exchange of information. The same applies to road transport. Carriers can use the Road Planning service as an easy way to give terminals and empty depots advance notice of the arrival of trucks. They in turn can prepare properly for these arrivals, which helps speed up things for the drivers at the terminal or depot and gets containers on the road more swiftly.
Please note: trucks are subject to environmental requirements on Maasvlakte 1 and 2.
Safe on the road
Tyre trouble or blow-outs are almost always the result of previous damage. Tyres with low tyre pressure experience more resistance from the road surface, causing the temperature in the tyre to rise. The result is ultimately a direct piercing or a blow-out. So it is imperative to check your tyre pressure. At the Free Tyre Checkpoints,
you can have your tyres checked for free within a minute.