An accessible port
Festive opening of extra truck parking spaces at Maasvlakte Plaza
02 July 2020
The Maasvlakte Plaza truck stop recently gained another 210 parking spaces. Thanks to this expansion, Maasvlakte Plaza now has 567 spaces, making it the largest secure truck stop in the world. This brings the total number of secure parking spaces across Rotterdam's port area to 945.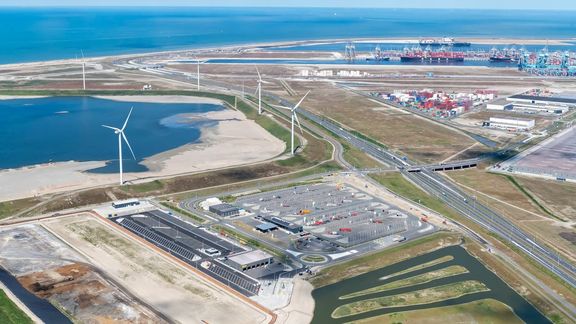 This latest expansion was necessary because Maasvlakte Plaza has had a very high capacity utilisation level – of over 90% - ever since the truck stop was opened in May 2017. In view of various new developments on the horizon at Maasvlakte, the area is only expected to become busier in the years ahead.
Ronald Paul, COO of the Port of Rotterdam Authority: "This concept sets a new standard for secure parking: the truck stop is safe, clean, offers high-quality facilities for the drivers and their vehicles and lies in the direct vicinity of a number of large terminals and distribution centres. It improves the accessibility of the port of Rotterdam itself and raises logistics efficiency in the port area to new levels."
Good news for road safety – and Europe's freight corridors
New truck stops like Maasvlakte Plaza help make roads safer. Truck drivers can get back on the motorway rested and refreshed, and are less likely to park – for lack of an alternative – along emergency lanes, entry and exit roads, on industrial estates or in residential neighbourhoods. To offer drivers enough time and flexibility to avoid evening rush hours, the first two hours of evening parking at Maasvlakte Plaza are always free of charge.
Moreover, by creating more options to spend the night at a safe location near the terminals, the Port of Rotterdam Authority is substantially contributing to the goal set by the SecureNL consortium. This alliance between the Province of Zuid-Holland, the Port of Rotterdam Authority, the Municipality of Dordrecht, the Municipality of Venlo and Asten-based Loverbosch B.V. will be realising a total of 765 new secure parking spaces for trucks at four different locations in the southern Netherlands before the end of 2022: Maasvlakte Plaza, Nobis Asten in Noord-Brabant, Truckstop Venlo in Limburg and a newly-constructed truck stop near Dordrecht. These locations are all situated along 'Top Corridors': crucial traffic arteries for Europe's freight transport (import and export). The project is co-financed by the EU's funding instrument for trans-European networks (the Connection Europe Facility).
Favourable location, excellent facilities
Maasvlakte Plaza is located in the heart of Maasvlakte and has a direct connection with the N15 motorway. On average, the truck stop is situated some 3.5 km from the large deep sea container terminals in the port area, with various distribution centres at less than 2 km distance.
With an information desk, Wi-Fi, showers, toilets, washers and dryers, lockers and a Routiers restaurant that can seat 175, the truck stop offers every amenity visiting drivers could desire. On top of this, they can also find a Shell filling station and a truck wash on the grounds.