Sustainability
New storage warehouse: an asset for European Bulk Services and the port of Rotterdam
30 September 2021
The enormous grey and white building at the Europoort terminal in the Rotterdam Beneluxhaven sparkles at you. The new, covered warehouse for agricultural products is the pride of European Bulk Services (EBS).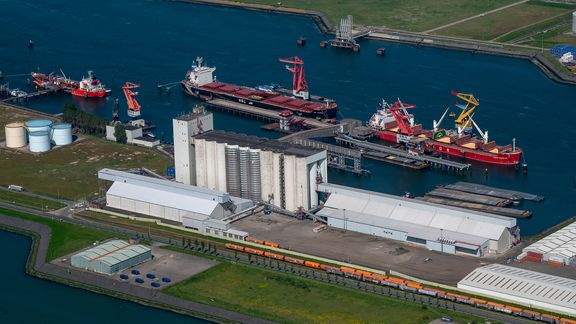 'The size of the warehouse, in combination with its design and location, is unique for Rotterdam'. André Brussé of EBS about the new warehouse, plans for the future and the history of the company.
European Commodities Exchange
Meet EBS, Port of Rotterdam Authority and other dry bulk parties at European Commodities Exchange.
EBS specialises in the storage and transhipment of all types of bulk goods and has two terminals: in Botlek for non-agricultural products and one in Europoort for agricultural products, where the new warehouse is also located. The warehouse has a storage capacity of 50,000 m3 for, among other things, grains and derivatives and consists of seven different compartments. 'This allows us to store more different products and also smaller batches for multiple customers. The design of the warehouse is aimed at flexibility, which is ensured by the conveyor belt, built according to the latest techniques. The warehouse is also ATEX-proof, which means it meets the highest European safety guidelines for explosion hazards.'
Young company, long history
Brussé (58) is a sales manager at EBS and has been working in the port since 1983. 'After my military service, I came here as a twenty-year-old. I first worked outside, then the commercial department had a planning vacancy in 1998 and I've been there ever since. The great thing about EBS is that it is a relatively young company with a long history. EBS was created in 1991 from a merger of three large stevedoring companies: Interstevedoring, Graan Elevator Maatschappij and Koninklijke Frans Swarttouw, which was established around 1887. EBS is a 100% subsidiary of HES International, established in 1908.'
Increasing demand for storage
Anyone who has worked in the port for that length of time has also seen a lot of changes. Brussé: 'Absolutely, many companies have merged or disappeared. When we merged, we had six terminals, now we have two. This is partly due to technical developments that make work easier and digitisation. In the past, many tons of grain were transhipped, now we store and transship more semi-finished products and minerals. Rotterdam is no longer just a transit port, but also an important storage and transhipment port. We noticed that demand for storage was increasing and that is why we now focus on expanding closed and flexible storage.'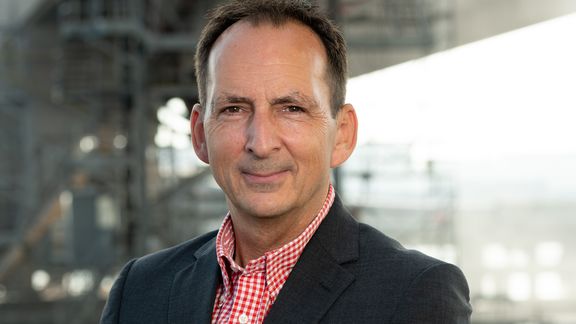 Future
With the new warehouse, EBS has a total storage capacity of 700,000 m3, an important step in a larger plan for the future. 'In the coming years, we will be investing heavily in closed storage to strengthen our position as a market leader. For example, a new warehouse with a capacity of 66,000 m3 will be built in Botlek. And in Europoort, we still have an area where we can build a 50,000 m3 warehouse. To this end, we work closely with the Port of Rotterdam Authority to achieve this as effectively as possible.'
Focus on sustainability
Like the port, EBS is always on the move. We ensure responsible storage and transhipment of bulk goods that contribute to tomorrow's world. 'Our parent company HES has a far-reaching policy to make the terminals more sustainable. Reducing emissions is a top priority, we want to minimise the use of diesel and electricity as much as possible. We use LED lamps for lighting, also in the warehouses.'
Reinforcing each
What does Rotterdam mean for EBS and vice versa? Brussé: 'Our terminals are located directly on deep water, which means large bulk carriers with a draught of 16 metres can moor directly at us. From the terminal, we have direct connections by road, rail and inland shipping to the hinterland. That draught, connections and the large European hinterland are really special about our port. This allows us to offer our customers a full service. And in turn, EBS reinforces Rotterdam and Rotterdam EBS!'