Ursula von der Leyen visits the port of Rotterdam
08 September 2022
European Commission President Ursula von der Leyen visited the Port of Rotterdam Authority today, accompanied by Dutch Prime Minister Mark Rutte. The purpose of the visit was to obtain Brussels' approval for Dutch grant applications under a major European recovery programme aimed at helping Member States emerge stronger from the COVID-19 crisis.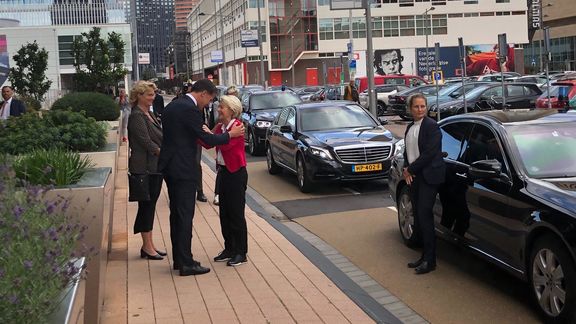 During their visit, Ms Von der Leyen and Mr Rutte boarded the Alphenaar (see image), an emission-free inland vessel that is the subject of one of the 40 Dutch grant applications approved by Brussels. The Alphenaar is the first Dutch inland vessel to use interchangeable energy containers for propulsion. It navigates between Alphen aan den Rijn and Moerdijk transporting beer for the Heineken brewery.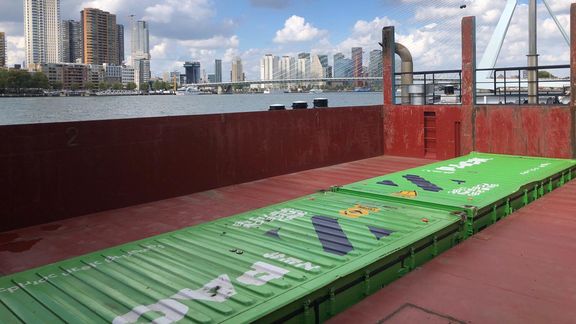 The energy containers – known as 'ZES-packs' – are standard 20ft containers filled with batteries charged with green electricity. They are supplied by Zero Emission Services (ZES), a company offering a complete service package for emission-free shipping based on exchangeable battery containers using green electricity, an open-access charging infrastructure and a pay-per-use payment concept for barge owners. ZES is aiming to have 45 customer vessels running on ZES-packs by 2030. ZES's shareholders are Ebusco, ING, Wärtsilä and the Port of Rotterdam Authority. It was established with the support of the Ministry of Infrastructure and Water Management and represents an important step forward in the transition to emissions-free inland shipping.
The Recovery and Resilience Facility (RRF). The aim of this facility is to mitigate the economic and social impact of the coronavirus pandemic and make European economies and societies more sustainable, resilient and better prepared for the challenges and opportunities of the green and digital transitions. The RRF makes €723.8 billion (in current prices) in loans (€385.8 billion) and grants (€338 billion) available for that purpose. It will help the EU achieve its target of climate neutrality by 2050 and set Europe on a path of digital transition, creating jobs and spurring growth in the process.