Impala purchases the HES Hartel Tank Terminal
23 November 2023
Impala Terminals Group announces that it has agreed, following an auction process, to purchase the HES Hartel Tank Terminal. Impala is a global infrastructure and logistics company. Under the terms of the purchase, Impala will provide additional investment of between 90 and 100 million euro over the next two years to complete the terminal's construction. The transaction is expected to complete in the coming days.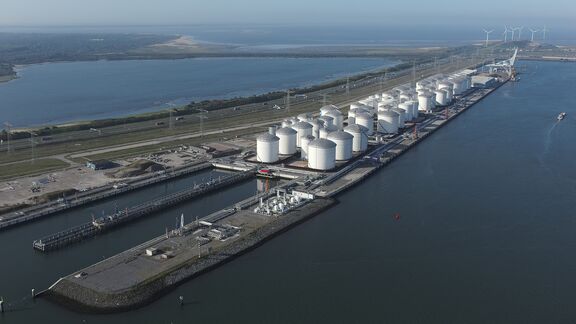 The HES Hartel Tank Terminal, which will be renamed 'Impala Energy Infrastructure Netherlands', provides approximately 1.3 million cubic metres of storage capacity for bulk liquid energy product. Once operations begin, the terminal generate up to 70 fulltime local jobs.
It is expected to include over 50 tanks, berths capable of loading up to VLCC-size vessels and nine barge jetties. The high-grade specifications and connectivity on the terminal will provide maximum flexibility for the users of the facility. Importantly, the terminal has the capacity to store a range of biofuel products, helping to facilitate the energy transition for the region.
Sale process
Construction of this brand new storage and distribution terminal was put on hold in December 2022 following a number of setbacks including the COVID-19 pandemic, other delays and additional costs. The project owner, HES Hartel Tank Terminal B.V. was declared insolvent in January this year and an auction process followed.
"I am pleased to announce that the sale process for the terminal asset will conclude next week and that Impala Energy Infrastructure Netherlands is the purchaser of the asset. This is a good outcome for all parties involved and most importantly, Impala will make the necessary investment to complete and commission this important asset in the Port of Rotterdam," said Carl Hamm, curator for the auction process.
"This is an excellent development for Impala, particularly as it will provide our strategic customers with a strong and sustainable asset located in the Port of Rotterdam in the major trading hub of Amsterdam-Rotterdam-Antwerp. We look forward to developing our business in the region in collaboration with different stakeholders and specifically the Port of Rotterdam Authority," said Sjoerd Bazen, CEO of Impala Energy Infrastructure.
New future for the terminal
Boudewijn Siemons, interim CEO and COO of the Port of Rotterdam Authority, congratulates the new owner of the major facility for essential commodities in the port: "We are pleased that Impala has purchased the terminal asset and that construction work will be completed. With this transaction, the company is making a lasting commitment to the port and is adding a brand-new facility for storing a wide range of bulk liquid energy products. This provides a new future for the terminal after a bankruptcy that has been difficult for all parties concerned, particularly the employees."
Rotterdam Maritime Capital of Europe partnership extended during Europort
09 November 2023
On Wednesday, November 8, Rotterdam, Maritime Capital of Europe, celebrated its anniversary during the maritime trade fair Europort in Rotterdam, Ahoy. During this celebration, it was announced that the partnership will be extended for two years.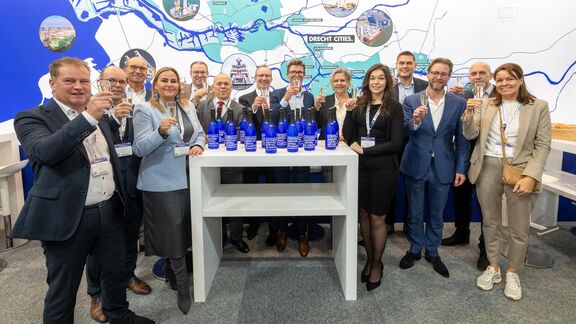 Five years ago, Rotterdam Partners, the City of Rotterdam, Smart Delta Drechtsteden, the Port of Rotterdam Authority, Deal! Drecht Cities, and the Province of South Holland joined forces to build a strong regional positioning with the message: 'Rotterdam, Maritime Capital of Europe.
Significant investments were made in online campaigns, trade missions and promotion at international trade fairs. Including the trade missions to SMM Hamburg, Norshipping, Singapore and London International Shipping Week. In close cooperation with the regional business community, educational- and knowledge institutions, and industry associations like theRotterdam Maritime Business Services Community, Netherlands Maritime Technology and PortXL. In the coming years, efforts in marketing and promotion will continue. The partnership will be continued until 2026.
Richard van der Eijk, Director Communications & External Affairs at Port of Rotterdam Authority: "The port of Rotterdam and the region offers a unique maritime cluster with everything needed for shipping, industry and logistics. By working together on a joint international profile and targeted campaigns, we strengthen our position as a sustainable and leading port and maritime region of the future."
Vice Mayor for the City of Dordrecht, Maarten Burggraaf: "The maritime sector is constantly evolving. By pooling our strengths and jointly promoting ourselves internationally, we can maintain and strengthen our position as leaders within the maritime sector."
Petra de Groene, Director of Economy and Sustainability for the City of Rotterdam: "Rotterdam is home to one of the world's most competitive and innovative maritime clusters. By collaborating more in our international promotion and acquisition, we can maintain this strong position and achieve our sustainability goals."
The goal for the coming years is to attract new maritime companies that strengthen the existing ecosystem and make the region visible as an attractive destination for investment and trade. In addition, the partners aim to further help the international position of companies in the maritime cluster.
Jorn Douwstra, Manager of International Trade & Investment at Rotterdam Partners: "The region has a strong appeal to the international maritime industry. By working together, we can better promote ourselves to companies that sustainably strengthen the maritime ecosystem."
Director of Deal! Drecht Cities, Martin Bloem: "We are the beating heart of the Dutch maritime manufacturing industry. We design and build everything needed for a clean maritime world. We would like to promote this under the flag of Rotterdam Maritime Capital of Europe."
Sustainability
Bugaboo on its way to emission-free supply chain
09 November 2023
Collaboration crucial in realising sustainability goals
A CO2-neutral society forms the basis for a future-proof world. Making supply chains sustainable is an essential part of this transition, but it also poses great challenges to shippers. A collaboration between supply chain parties may lead to good results, as Bugaboo's success story proves.
The popular strollers are its main eyecatcher, but Bugaboo's range of products has lots more to offer for new parents. Its main office is located in Amsterdam, but the vast majority of its portfolio is produced in its self-owned factories in China. From there, Bugaboo ships its products to clients across the globe.
"We operate in the manufacturing industry, which logically leads to a relatively large CO2 footprint. That's what makes the challenge of reaching our sustainability goals so great. But especially because we have our own production facility, we are able to gain insights into our footprint and to control it directly", says Lise Hordijk, sustainability manager with Bugaboo.
She knows all too well how ambitious these sustainability goals are. Bugaboo actively promotes a better future. The ultimate goal is zero emissions by 2035. "It's approaching rapidly, but I am convinced we can make it", says Hordijk.
Responsible production
According to her, collaboration within the supply chain is essential in achieving the sustainability goals. For Bugaboo, that begins on the production side of the supply chain. "Among other things, we look at our products' design – how can we use materials differently, and how can we purchase raw materials in a responsible way", Hordijk tells us.
It has led to a cross-value chain partnership with DSM Engineering Materials (now Envilor) and Neste, among other things. This collaboration led to the successful implementation of bio-based plastics in the Bugaboo portfolio.
"This is one of the materials we use most in our products. By switching to a more sustainable alternative, we have been able to reduce our CO2 emissions related to those products by up to 24%. And of course, without making any concessions regarding quality", the sustainability manager continues. Bugaboo is currently looking into alternatives for other materials within its production process. "There is still room for improvement for sure", says Hordijk.
Reducing CO2 emissions
Yet also transportation to retailers and clients across the world, especially using sea containers, has great impact on the shipper's CO2 emissions.
The lion's share of all transported containers is headed for the European market and is shipped through the port of Rotterdam. "Rotterdam's ambition is to be the most environmentally sound hub. This enables us to distribute our products in the most sustainable way possible", says Hordijk
Along with a number of supply chain parties, the Port of Rotterdam Authority is leading the way in the transition towards CO2-neutral chains – and in a collaboration with GoodShipping, it initiated the Switch to Zero campaign, in which Bugaboo is also participating. Hordijk: "The campaign is more than just a good-looking initiative, and it fits in perfectly in our Push to Zero programme, which is aimed at reducing CO2 emissions rather than compensating for them: insetting instead of offsetting."
'Insetting is bringing along a real change'
GoodShipping is the market leader regarding insetting, enabling shippers and manufacturers to transport sea freight using sustainable fuel rather than traditional fossil fuels. The initiative is not with the shipping companies, but with the cargo owners.
What is insetting?
Insetting is the principle that companies use to reduce their ecological footprint, within their own value supply chain. That CO2 reduction is not achieved through compensation, but by actually using more sustainable alternatives. An equivalent amount of sustainable transportation (in other words: CO2 reduction) is purchased through certificates of use of alternative fuels. By using insetting, companies are able to influence their own values supply chain sustainability in an effective way. Also, the principle promotes a supply chain amendment for the longer term.
"There aren't many sustainability options yet in the container supply chain", Hordijk explains. "Offsetting – i.e. compensating emissions, for example by planting trees – is important, but it's not leading to any real changes. Insetting does exactly that, by replacing fossil fuels with biofuels."
Thus far, the switch from fossil fuels to sustainable biofuels has led to a reduction in CO2 emissions of no less than 73 percent. "It's an easily accessible way to contribute to real-time CO2 reductions, without the necessity of far-reaching changes in the supply chain", Hordijk knows.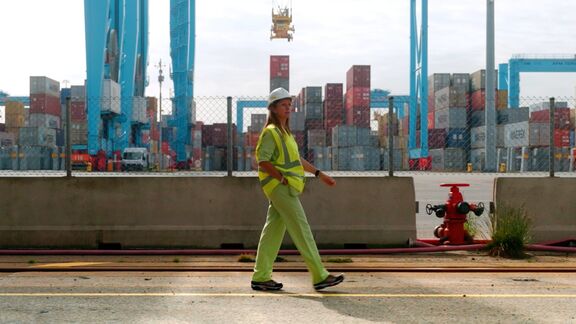 And the choice of Rotterdam and the collaboration with GoodShipping are just the beginning. We also collaborate closely with logistic services provider DSV to achieve a sustainable supply chain. DSV provides Bugaboo with storage and distribution services from a dedicated warehouse in Moerdijk.
"Twice a year, we receive detailed sustainability reports. Based on those reports and in mutual consultation, we look at how we can continue to make that part of the supply chain more sustainable as well", Hordijk explains.
'No empty promises'
Bugaboo is on its way to an emission-free supply chain. And although there is a lot more to come, the results we achieved thus far are very impressive. Hordijk is most proud of the fact that the company's reduction targets were verified by the Science Based Target Initiative. This world-wide body serves to ascertain whether the emission reduction targets are actually contributing and aligned with the targets set in the Climate Agreement.
"Cutting CO2 emissions in our production processes and materials in half makes our targets quite challenging", Hordijk adds. "But due to the verification, we know for sure that we can really make a contribution, and that it's not just empty promises."
So the sustainability manager is looking to the future with confidence. "If you consider the tremendous number of containers you can transport by ship, this still remains the most sustainable method of transportation. Insetting initiatives, like the one by GoodShipping, only make the supply chain more environmentally sound", she concludes.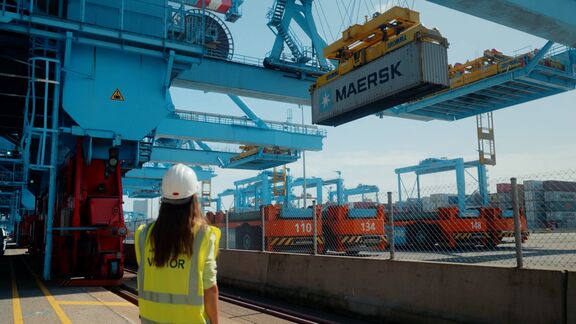 Energy transition
Air Products to build Europe's largest blue hydrogen plant
07 November 2023
Air Products will build, own and operate a carbon capture and carbon dioxide (CO2) treatment facility at its existing hydrogen production plant in Rotterdam. The facility is expected to be on-stream in 2026 and once operational will be the largest blue hydrogen plant in Europe.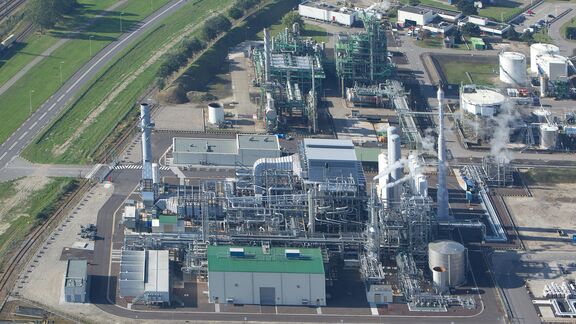 Hydrogen is called 'blue' when the CO2 from production of hydrogen is captured to be stored. The resulting blue hydrogen product will serve ExxonMobil's Rotterdam refinery and additional customers via Air Products' hydrogen pipeline network system.
The captured CO2 will be transported to depleted gas fields in the North Sea and where it will be permanently stored at a depth of more than three kilometers beneath the seabed. The plant will therefore be connected to the Porthos system.
Porthos allows Air Products to more than halve its CO2 emissions in the port of Rotterdam. At the same time, Air Products is working hard to further decarbonize its own activities and those of its customers by realizing plans to make green hydrogen available from imported renewable energy in the port of Rotterdam.
Innovation
Worms as a solution for dewatering sediment sludge
30 October 2023
The European dredging industry generates an estimated 200 million cubic metres of sediment annually. Approximately 5 million cubic metres of dredged material is extracted from the port basins of Rotterdam's port area each year. The majority of this material comprises a mixture of very fine sediments and water. Converting this sludgy mix into soil typically requires a considerable amount of time for the water to naturally drain or evaporate, a process known as dewatering.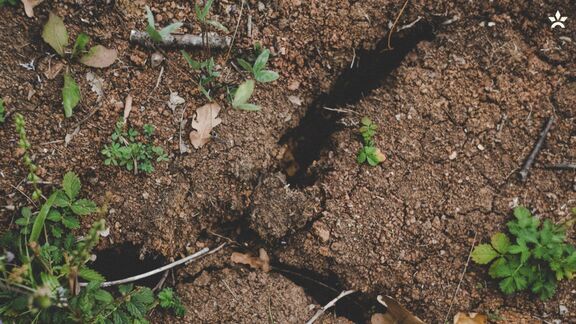 Miguel de Lucas, CEO of Medeina, discovered a method to significantly accelerate the dewatering process. This approach combines biology and physics in an unconventional way, with a starring role played by worms. According to Miguel de Lucas, 'When our worms are introduced into sediment with water, they create a network of tunnels all through the sediment. This significantly accelerates the drainage of water.'
Read the complete interview with Miguel here. Medeina is one of the participants in the 2023 PortXL accelerator programme. Together with seven other start-ups and scale-ups from around the world, they are taking part in this 100-day programme.
Throughput in port of Rotterdam falls by 6.0% in first three quarters
23 October 2023
In the first nine months of 2023, there was 6% less throughput in the port of Rotterdam: 329.9 million tonnes compared to 351.0 million tonnes in the same period in 2022. The decline was mainly related to the throughput of containers and coal. Throughput of iron ore and scrap, agricultural bulk and LNG increased.
The drop in the total throughput volume is the direct consequence of limited growth in the global economy and geopolitical tensions, which are driving falling world trade volumes and lower industrial production.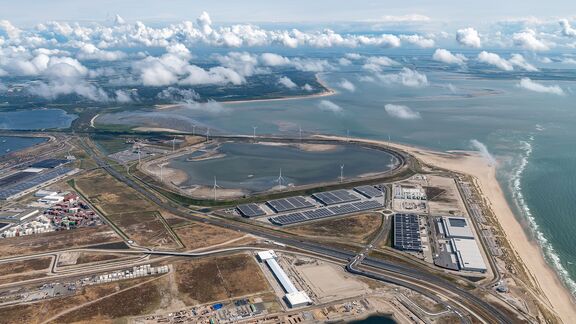 Boudewijn Siemons, interim CEO and COO of Port of Rotterdam Authority: "As we expected, the throughput in the first nine months was lower than last year but is in line with our prognoses. The economy has not yet recovered and this continues to impact throughput figures. In spite of less throughput, we are committed to investing in a vital and climate-neutral port. In the third quarter, we reached an important milestone in the CO2 transport and storage project, Porthos. After a positive ruling by the Council of State in August, the definitive investment decision was taken in October and construction will begin as soon as possible. Thanks to Porthos, some 2.5 million tonnes of CO2will be captured annually and stored."
Dry bulk
The dry bulk segment declined by a total of 11.9% in the first nine months of the year. Although steel production dropped, the throughput of iron ore and scrap increased (6.8%). In recent months, blast furnaces were operating steadily and stocks of ore have been replenished. Coal throughput fell significantly (-16.8%), mainly because less coal was fired in power plants. The plants had stiff competition from solar, wind and gas. Therefore, several coal-fired power plants were left idle in recent months. The growth of agribulk (40.7%) and drop in other dry bulk (-53.6%) is distorted due to administrative corrections. Without this skewed result, the increase in the agribulk segment was 4.6%. This is mainly because more soy was imported from South America. After correction, the throughput of other dry bulk fell by -23.9% due to lower demand for raw materials for construction and industrial production. In addition, this type of cargo was more frequently transported in containers due to the lower container rates.
Liquid bulk
The liquid bulk segment experienced a drop of 2.4%. The throughput of LNG rose slightly by 0.4%, as more LNG was imported to replace Russian pipeline gas. The other segments show a slight decline in throughput. Specifically, the throughput of crude oil fell by 1.9% as a result of increased maintenance work to the refineries, which reduced the supply of crude oil. Mineral oil products dropped by 3.1% because less fuel oil is transported via Rotterdam following the sanctions on Russian oil products. Similarly, the categories within the segment other liquid bulk (including chemical products, biofuels, vegetable/animal oils and fruit juices) fell by 3.5%. Higher energy costs and lower capacity utilisation rates at plants in Europe meant that existing stocks were pared down.
Containers and breakbulk
Global demand for freight is still lower than in 2022 as a result of inflation, limited economic growth, geopolitical tensions and higher spending on services rather than products. This has a knock-on effect on the throughput of containers in Rotterdam. The container segment saw a decline of 8.1% in weight and 7.2% in the number of containers (TEU, twenty feet equivalent unit) in the first nine months. The transhipment volumes increased by 8.1% in the third quarter of 2023.
In addition, roll-on/roll-off traffic (-3.8%) and other general cargo (-13.7%) fell as a result of reduced consumer spending, large stocks and lower investments. The total throughput in the breakbulk segment therefore fell by 6.0%.
No sea-going vessels to use Parkkade and Lloydkade for the time being
13 October 2023
Sea-going vessels will be temporarily prohibited from using Parkkade and Lloydkade in central Rotterdam from 20 October. The European Commission carried out an inspection there in mid-September 2023 to improve port security. The results indicated that the current security measures at these public docks do not meet the expectations of the European Commission.
Roughly 1700 sea-going vessels use the public berths at Parkkade and 400 use those at Lloydkade every year.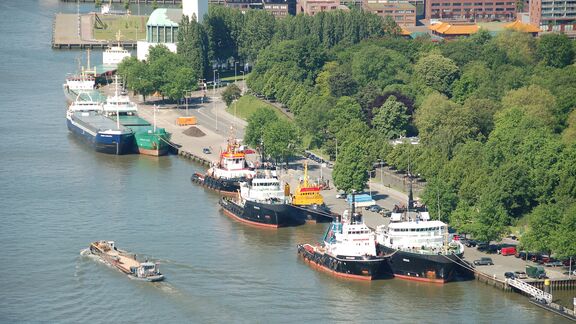 The other Dutch public docks will also be investigated further by the European Commission. The regulations concerned are the ISPS Code (International Ship and Port Facility Security Code) which has applied to sea-going vessels and port facilities receiving them since 2004. These regulations focus on the contact between the vessel and the quay – the 'ship-shore interface' – and require security measures for both the vessel and the port facility.
Camera surveillance was chosen for Parkkade and Lloydkade due to the public space, the inhabited surrounding area and the protected cityscape. This measure was initially considered adequate. As the Ministry of Infrastructure and Water Management and the Port of Rotterdam Authority have interpreted and implemented European laws and regulations differently, the European Commission has now deemed this measure insufficient.
The Port of Rotterdam Authority is now investigating alternative (public) docks for ships that use Parkkade and Lloydkade. Moreover, it is working on measures to allow sea-going vessels to use the public docks again as soon as possible. It is unclear how long the situation will last, but we will keep stakeholders updated on any progress. 
Mass Flow Meter Bunker measurement system mandatory as of 1 January 2026
11 October 2023
From 1 January 2026, the use of a bunker measurement system for bunker vessels in the ports of Antwerp-Bruges and Rotterdam will be mandatory. From this point onwards, bunker vessels in the two ports must have a certified system that indicates the exact amount of fuel they are delivering to seagoing vessels.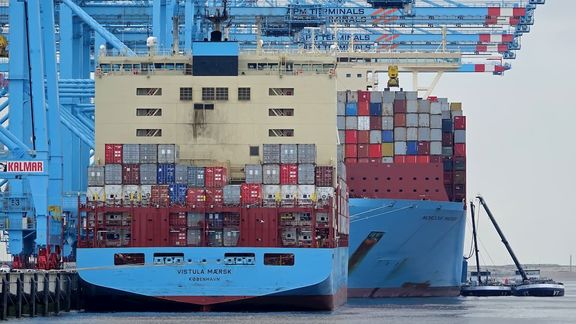 With this measure, the port authorities aim to make the bunker market of Antwerp, Zeebrugge and Rotterdam more transparent, efficient and reliable.
At the end of last year, the two ports announced that they would make it a requirement for bunker vessels to have a certified bunker measurement system on board. This follows independent research in Antwerp and Zeebrugge, and Rotterdam, which revealed recurring quantity issues in the bunker market.
In the past months, the ports consulted with various stakeholders to understand the needs and wishes. Together, the parties outlined a realistic roadmap to implement the bunker measurement system. In addition, the practicalities of introducing the system had to be thoroughly checked with regard to the differing legislative frameworks in Belgium and the Netherlands.
Currently, 40 out of 170 bunker vessels in Rotterdam, Antwerp and Zeebrugge are equipped with a bunker measurement system. The port authorities are therefore aware that this measure will have a major impact on the bunker market. By selecting 1 January 2026 as the start date, the various companies in the bunker chain have sufficient time to adapt to the new measure.
This future requirement was already included in the permits for bunker vessels in the port of Antwerp-Bruges. The permit for bunker transporters in Rotterdam is yet to be updated. At the trade conference ARACON, which will be held on 19 and 20 October, the two ports will give a status update.
German steel company thyssenkrupp invests in the port of Rotterdam
05 October 2023
thyssenkrupp Steel Europe invests in the port of Rotterdam. At Ertsoverslagbedrijf Europoort C.V. (EECV) a new unloading installation for seagoing vessels will be constructed with an investment of tens of millions of euros. With the new crane, thyssenkrupp is demonstrating its belief in the long-term presence of its infrastructure in the port of Rotterdam.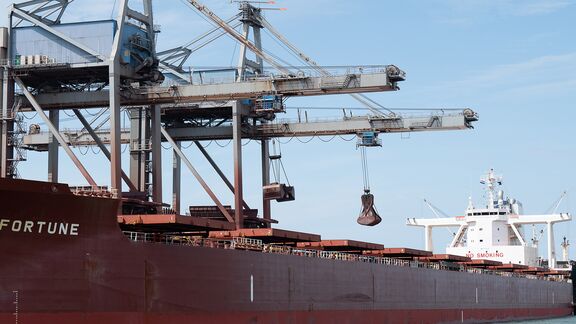 The unloading installation will be used to unload fuels and resources for the steel factory. "The transhipment of coal will gradually decline after 2027 but iron ore will remain essential for the production of climate-friendly steel. In the future, EECV and thyssenkrupp Veerhaven will transport resources for the new DRI factory, which will run on hydrogen. The new unloading installation and the reliable fleet of pushers will allow both companies to continue to act as a reliable connection between the port of Rotterdam and the future green steel factory in Duisberg for decades to come," says Dr. Heike Denecke-Arnold, COO of thyssenkrupp Steel.
Energy transition
Port of Rotterdam and Yokogawa kick off study to increase energy and resource efficiency across industries
25 September 2023
The Port of Rotterdam Authority and Yokogawa Electric Corporation have initiated a feasibility study into increasing cross-industry integration for the efficient use of energy and utilities in the Rotterdam industrial cluster to contribute to ambitious regional decarbonization goals. A first scan showed that optimizing the use of electricity and utilities across companies could yield cost savings as high as 5%.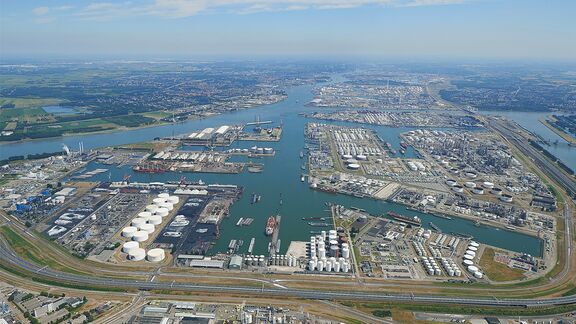 Individual companies in the petrochemical industry have generally highly optimized their own operations. But concerns about exposing confidential information often hamper them from looking 'beyond the fence' to work with other companies in an industrial cluster, even though this can yield further energy and resource savings. The Port of Rotterdam and Yokogawa aim to break through this barrier by facilitating confidential sharing of data and deeper integration within the cluster to unlock the large potential efficiency gains of optimizing production across entire industrial clusters.
Through integration of multiple utilities such as heat, electricity, and hydrogen, industrial flexibility can be increased, which leads to new efficiencies. For example, with regards to electricity, consumption "behind-the-meter" may be optimized between adjacent companies to manage peak demand, which could also help prevent or reduce electrical grid congestion in the port area. The same approach can be extended by orchestrating the use of other utilities. Companies that produce steam as a byproduct, for example, could choose to ramp up production right at the time when a neighboring company needs more steam, preventing heat from being wasted. Overall, this multi-utility approach could make a relevant contribution to energy savings and emissions reduction.
As Europe's largest port and home to more than 200 industrial companies, the Port of Rotterdam is uniquely positioned to facilitate and implement this project in support of the energy transition. Yokogawa is able to leverage its simulation technology that supports optimal production planning, solutions for regional energy management, and consulting capabilities to uncover opportunities for efficiencies across multiple industrial systems.
Pre-feasibility study
The two companies have already completed a pre-feasibility study using computer simulations and comparisons with operations in the Rotterdam port industrial cluster to identify potential savings of a range of utilities. This was combined with deep-dive workshops and roundtable discussions with various companies active in the area.
The pre-feasibility study showed up to 5% improvements in efficiencies from better alignment of the use of electricity, heat, steam, and feedstocks such as water and industrial gases, resulting in lower costs and a reduced carbon footprint. In the long run, deeper integration and optimization within the industrial cluster could yield savings as high as 10%. In this way, the Rotterdam area could develop towards an "industrial sharing economy" in which intensive sharing of resources and infrastructure leads to highly efficient operations for all companies in the region.
Following these promising initial evaluations, the Port of Rotterdam and Yokogawa have now started a feasibility study with several petrochemical and energy companies in the cluster to define concrete use cases based on existing operations. The first results of the feasibility study are expected by the end of 2023. If sufficiently positive, the next step will be to develop plans for carrying out field trials with cooperating companies in the port from 2024.