Fun & educational
A visit to FutureLand is a great match for various educational learning objectives. There are options for all ages and levels offering a valuable introduction to Maasvlakte 2 and the Port of Rotterdam.
Lesson programmes have been developed in various areas for primary and secondary schools. These can be used in preparation for the visit or after the visit. This makes a visit to FutureLand even more useful. Experienced FutureLand guides offer students in professional and academic education appropriate information that reflects their knowledge level.
select your programme
For your programme you can choose from a number of programme components. You can use these to prepare and organise a study visit. Following telephone or e-mail contact, we record the details and confirm your visit.
fossil expedition
Maasvlakte 2 is covered with sand dredged deep from the bottom of the North Sea. That's why many remains of ancient life are found on the Maasvlakte beach. Fossil expert Walter Langendoen regularly takes groups to the beach. His tips will enable everyone to become an accomplished tracker.
Interactive presentation with voting boxes
An interactive, new application makes presentations about Maasvlakte 2 even more fun. With voting boxes students can participate actively by answering questions about sustainability, technology and economics. After the questions, the answers are displayed immediately on the large screen.
Conditions and information
Schools are of course welcome in FutureLand. Together with your class, you can experience the port of the future now. We can customise the programme to ensure that it will be a great match for every level.
Guidelines & minimum supervision
Group size max. 30 pupils
Visit possible from year 6 onwards
Primary education: minimum 1 supervisor per 8 pupils
Secondary education: min. 1 supervisor per 10 pupils
Excursions and guest lessons
you can expand the programme with an excursion through the entire Port of Rotterdam or with a guest lesson at school. Call the Education Information Centre for information and to find out about the options and the price: +31 (0)181 29 60 29 or take a look at eic-mainport.nl.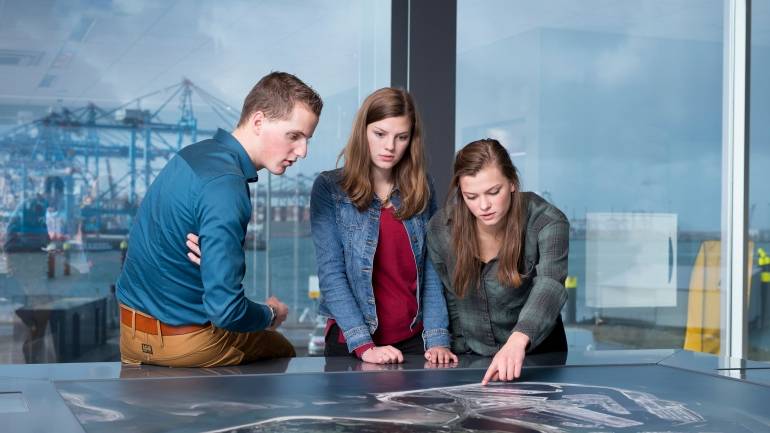 Prepare your school visit
A choice can be made from a number of program components. This allows you to prepare and organize a visit for your pupils or students.
What visitors think of us