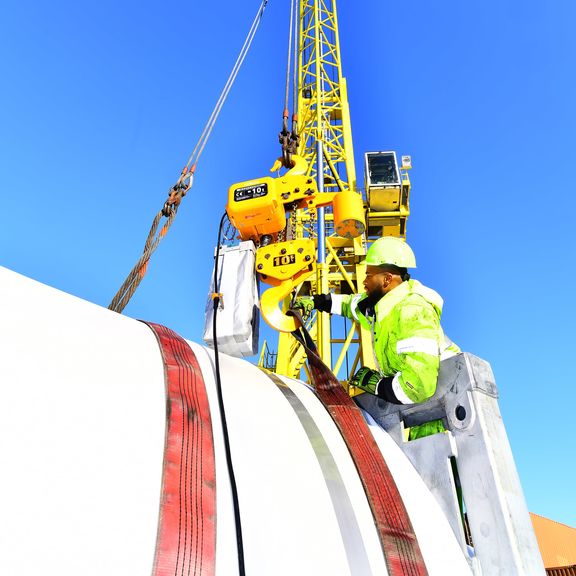 Sustainable development in the port of Rotterdam
We want to accelerate sustainable development in the port. Whether it concerns creating opportunities for sustainable businesses to set up operations in the port of Rotterdam, the surroundings for local residents or climate-friendly transport solutions. The word 'sustainable' says it all: we are always focused on it.
Sustainable development goals
We strive for health, prosperity, decent work and modern energy for all, but we also care about innovation, good infrastructure, economic growth and the climate. We want to contribute to these Sustainable Development Goals (see also illustration), formulated by the United Nations, now and in the future.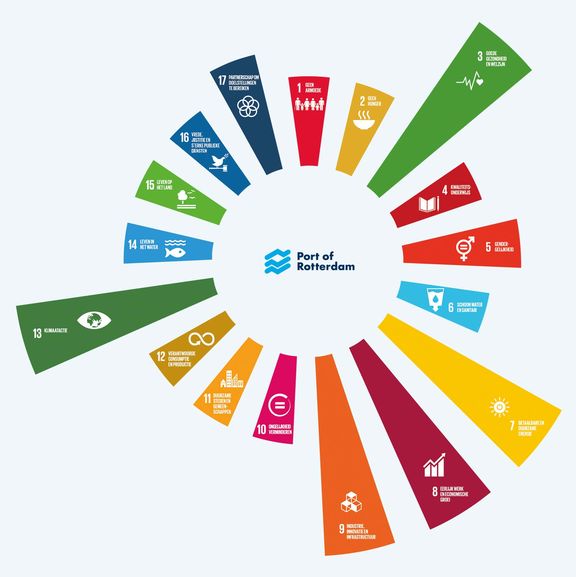 RELEVANT SDG'S
SDG 3: Ensure good health and promote prosperity for all ages.
SDG 7: Ensure access to affordable, reliable, sustainable and modern energy for all.
SDG 8: Promote sustained, inclusive and sustainable economic growth, full and productive employment and decent work for all.
SDG 9: Build resilient infrastructure, promote inclusive and sustainable industrialisation and foster innovation
SDG 13: Take urgent action to combat climate change and its impacts.
What are we currently doing about sustainable development?
Our approach consists of reducing emissions from existing industry through, for example, carbon capture and storage and the construction of heat grids for using residual heat. On the other hand, the Port Authority is making efforts to attract new, innovative developments, such as the production of green hydrogen, biofuels and recycling activities. Crucial to all these developments is the construction of new infrastructure such as heat, hydrogen and CO2 pipelines. In addition, the Port Authority is actively involved in making shipping more sustainable through, for example, shore power projects and facilitating the bunkering of clean fuels.
What is the Port Authority doing to improve sustainability?
We want to combat climate change and at the same time ensure that the port area continues to make a major contribution to Dutch prosperity and employment. As the Port of Rotterdam Authority, we create economic and social value by working with customers and stakeholders to achieve sustainable growth. The port of Rotterdam is the place where the energy transition and circular economy are taking shape.
We challenge our own organisation. We are working hard to achieve a carbon-neutral port by 2050. Our focus is on the port and our own business, and where possible we also play a role in making chains more sustainable. In doing so, we invite stakeholders in and around the port to work together on the challenges we face in developments in the port.
Working together on sustainable development
We cannot make the port of Rotterdam a sustainable port on our own. What is your company or organisation doing to help us? Please let us know. We are keen to share stories about the port to inspire others to engage in similar sustainable initiatives.