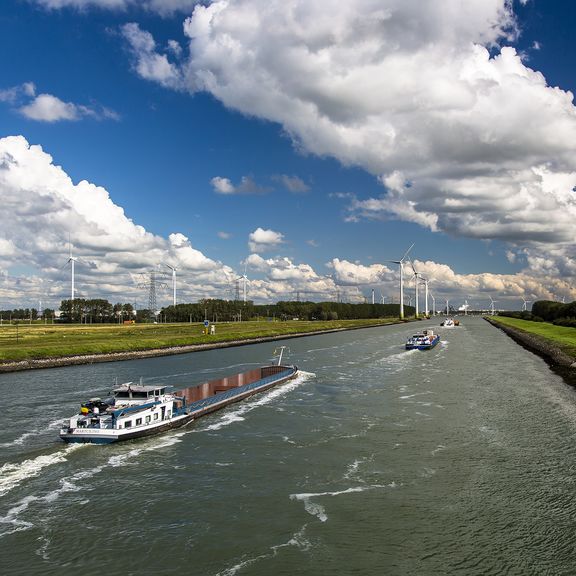 The port of Rotterdam is ideally situated for inland shipping and is a start and end point for cargo flows over water. European destinations can be accessed quickly via the Maas and Rhine rivers. Links with the Main and Danube enable transport to the Black Sea. Check Routescanner for all barge connections.
Barge Performance Monitor
Rotterdam is working with its partners on reliable and efficient connections between the port and destinations in the hinterland. For inland container ships sailing from or to the port of Rotterdam, we have developed the Barge Performance Monitor.
Optimising inland container shipping chain
In order to realize our ambitious growth targets, an intensive cooperation with all parties in the chain is necessary. We cooperate with the market to further optimize the handling of inland container ships as well as the complete supply chain.
Destinations in Europe
From the terminals in Rotterdam an extensive fleet of inland vessels transports your cargo via the Maas and the Rhine directly to the major economic centres in the Netherlands, Germany, Belgium, France, Switzerland and Austria. Sailing times vary from less than a day for destinations in the Netherlands, Germany and Belgium, to four days for example from Rotterdam to Basel in Switzerland.
Large quantities and long distances
The flexible and modern fleet of thousands of small and large inland vessels can be put to a wide variety of uses. It can transport dry and liquid bulk, containers and project cargo. Inland shipping is highly suitable for transporting large volumes. Only between Rotterdam and Duisburg can 6-barge push units sail, for example, and thus transport 16,000 tons of coal and iron ore every day. Inland shipping is strong in long-distance transport, but when combined with road transport for shorter distances it can also offer an interesting alternative to using road transport for the entire route. Inland shipping is responsible for around 50% of incoming and outgoing cargo between the port of Rotterdam and destinations in Europe.