Educational institutions in Rotterdam and the Port of Rotterdam Authority join forces
10 November 2021
Ports worldwide face many challenges. The energy transition, digitisation and new geopolitical relationships are examples of developments that create complex issues for port administrators and managers and the port's business community. This requires continuous knowledge development.
A unique cooperation partnership involving Rotterdam educational institutions and the Port of Rotterdam Authority provides a solution to this challenge and develops first-rate training programmes for an international market.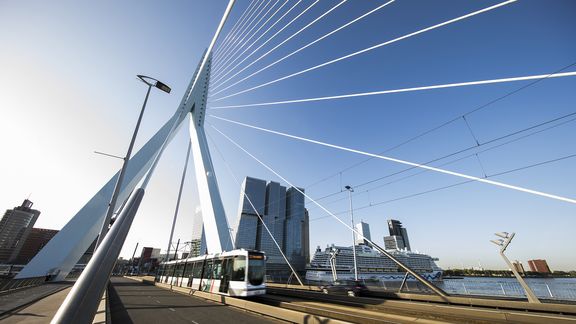 The partnership
The partners involved include the Port of Rotterdam Authority, Rotterdam School of Management, Erasmus Center for Urban, Port and Transport Economics (UPT) and STC International (Shipping and Transport College). In addition to their years of experience in developing high-quality training programmes, the educational institutions bring scientific and practical knowledge in the fields of port economy, strategic and operational port management and leadership. The Port of Rotterdam Authority adds experience and knowledge acquired from developing and managing one of the largest and most modern ports in the world.
The training programmes
In ports and the port business community, managers at all levels face challenges and developments that seem to be accelerating. The role of data and ICT is becoming increasingly important, and requires employees to possess different qualities. Issues are becoming more complex and often demand a more integrative approach, which looks beyond the limits of one's 'own domain'. Changing and adapting organisations also require new forms of leadership. The maritime training programmes being developed aim to combine the state-of-the-art knowledge of ports with the underlying economic, managerial as well as technical principles. Leadership principles are discussed in order to be able to implement changes in one's own organisation, supported by case studies and real life cases. The various programmes are characterised by a specific focus on relevant themes, a certain target group, such as executives or young professionals, and their duration and form. These can be physical, online or a combination of the two.
Specific development
The portfolio will be expanded in the coming period. The three educational parties and the Port of Rotterdam Authority have been working together in the field of international port training for some time now. The first joint programmes were thePort Executive Leadership Circle and the Port Management Programme, which were successfully completed in 2020, but were temporarily discontinued due to Covid-19. New editions of existing courses will start in 2022. In addition, there are ongoing programmes in which the partners are involved in different combinations. The intensified cooperation now being achieved should lead to a broader package of maritime training courses in the years to come that are perfectly aligned with the demand from the international market.
Port Management Programme
Get introduced to the major aspects of digitisation in the unique Port Management Programme, hosted by Port of Rotterdam and STC International (Shipping and Transport College). Subscribe now for the online January edition.
More information? Contact:
Brenda Bussem
Advisor international Training & Education