Take your friends to FutureLand and you can be certain that your children's party will be a big hit. You will go on a discovery tour through FutureLand and play interactive games. And, of course, it's not a party without yummy food and drink. We'll make fun lunch boxes for everyone who comes to your party.
On a voyage of discovery
You can extend your party with an awesome tour or fantastic boat trip. You'll drive through the very latest and most modern port area and hear all kinds of exciting and fun facts about Maasvlakte 2 on the way. Or what about taking to the water - who's got their sea legs? The boat trip takes you beneath the highest container cranes in the world and passes close to the highest and deepest quay walls you have ever seen. And what about those container giants? They are over 400 metres long and can carry some 24,000 standard sea containers.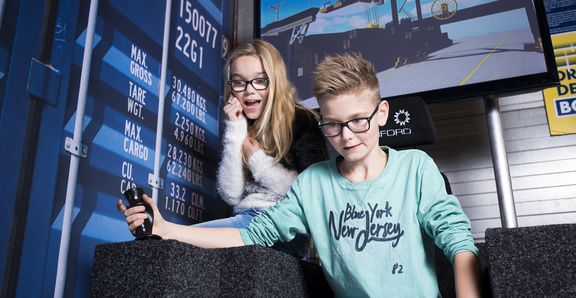 To summarise
Fun explanation from a real guide
Funny film about Maasvlakte 2
Exciting treasure hunt
Kids' lunch box
Take up to 19 friends with you
From age 6
Select an additional tour or boat trip
For the kids' lunch box you can choose from an organic croquette, crispy chicken or a veggie burger. The box will also contain organic fries, Schulp apple juice, a mandarin and a small surprise.
Costs
The fixed price for a children's party for up to 20 children is € 60. This includes the presentation, film and a treasure hunt. The prices for the tour and boat trip are given on the FutureLand Express and Ferry pages. Contact us to organise and book your children's party.
Kids arangements
The kids arangements, also prepared with delicious and healthy products, are offered alongside the regular New Fork assortment. Therefore please notify us in advance which arrangement you would like to use.
Container box € 6,95
Sandwich peanut butter/farm cheese or jelly
Sultanas
Fruit snack apple/strawberry
EARTH water
Surprise
Kids box € 10,50
Organic croquette, chicken nuggets or vegan 'bitterballen'
Organic fresh french fries
Fruit snack apple/strawberry
Natural apple juice by Schulp
Surprise
Want to hold a presentation about FutureLand?
Tell your classmates everything they would like to know about Rotterdam's latest port expansion. Show them video clips, a jar of prehistoric sand and a 30,000-year-old mammoth bone!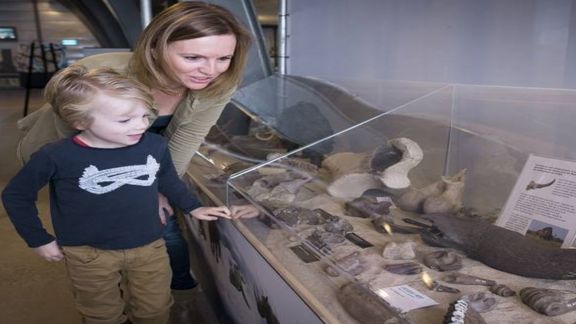 What visitors think of us